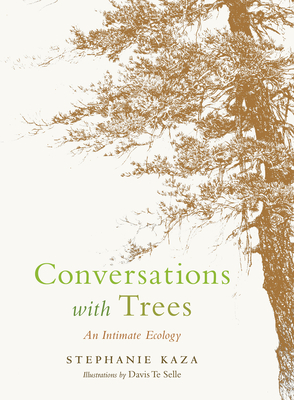 Conversations with Trees
An Intimate Ecology
Paperback

* Individual store prices may vary.
Description
From a pioneering thinker in the field of religion and ecology, a collection of evocative meditations on the beauty, fragility, and resilience of trees. Included are twenty-seven original lithographs of the trees profiled in each chapter.

First published in 1993, Stephanie Kaza's heartfelt book helped thousands of readers kindle a sense of spiritual connection through communing with our ancient relatives - trees. Shambhala Publications is proud to reissue this book, with a beautiful new cover and a new Introduction by the author. More pertinent now than ever, Kaza's intimate exploration of the lives and relationships of individual trees exemplifies the conjunction of inquiry and emotion, of science and spirituality. In an era of species extinction and worsening climate change, this book is a warm and earnest invitation to personal and ecological sanity.
Praise For Conversations with Trees: An Intimate Ecology…
"Conversations with Trees has never been more important. Twenty-five years ago, Stephanie Kaza's lyric, wondering prose invited readers to listen to what trees teach about the glistening webs that connect all of life. Now, as global warming brings hellfire and tempests to the forests, we must listen to what their sinewy strength tells us about suffering, regeneration, and redemption."—Kathleen Dean Moore, author of Wild Comfort

"A beautiful exploration of the intelligence and mystery of trees. These essays kindle both curiosity and awe, inviting us into deeper relationship with our sylvan elders."—David George Haskell, author of Burroughs medalist, The Songs of Trees, and Pulitzer finalist, The Forest Unseen


Praise for the original edition:

"This is a beautifully written, imaginative, appreciation of trees."—Publisher's Weekly

"Kaza has answered the alluring call of the trees, transcending the limitations of species to romp among them. Her book gives us a rare glimpse of the wisdom that a deep, open-hearted encounter with nature can afford us."—Yoga Journal

"In Conversations with Trees we recover our primordial intimacy with trees. We are sheltered, nourished, and inspired by trees both physically and spiritually. Our loss of the forests and woodlands of the world is the loss of so many of our deepest interior experiences: the grace of the willow, the vigor of the oak, the flow of the American elm and the ash, the toughness of hickory. In this volume our sensitivity, our attentive heart, is awakened and from there we are on our own."—Thomas Berry, author of The Dream of the Earth

"Stephanie Kaza's book is a triumph—Deep Ecology writing at its most humbly, powerfully evocative. Her encounters with trees teach us to know—and, in knowing, to love—both world and self. For here each tree, in disclosing its own story, its own beauty, reveals the beholder's as well. Each tells us, in a different voice, that if we are to preserve the natural world, we must let it feed our souls."—Joanna Macy, author of World as Lover, World as Self

 "In the tradition of Aldo Leopold and Rachel Carson, Conversations with Trees draws the reader into the deeper meanings and more heartfelt connections with nature. The book should be read by all people who want to reconnect to the Tree of Life, to our sacred connections with forests."—William Devall, author of Deep Ecology

"A delightful book that greatly deepened my appreciation for trees and for people who take the time to educate the rest of us about how to converse with them."—Turning Wheel
 
"The lessons Kaza has learned and here conveyed are both profound and mundane, like most important truths."—Wild Earth

"For those who slow down when passing a particularly magnificent elm, or dawdle on hikes to appreciate the solitary birch, Conversations with Trees assures: take heart, you are not alone."—Vermont Times

"Stephanie Kaza's rich work gives trees a voice, Davis Te Selle's lithographs, a shape. Together they give us a unique document, an extended meditation on the forest of green wilderness that we live in and need in order to survive. . . . A heartfelt celebration of trees and a graceful call to let their patient wildness grow back through the openings in our minds."—China Galland, author of Longing for Darkness

"We measure the richness of our lives by the friends we are privileged to make and keep. In Conversations with Trees, Stephanie Kaza introduces us to new friends—mysterious, simple, dying, working, lovely friends—friends for life, if you wish. She gives us the gifts of fact, spirit, role, and beauty of trees."—Michael Fischer, former Executive Director, Sierra Club
Shambhala, 9781611806779, 288pp.
Publication Date: April 23, 2019
About the Author
STEPHANIE KAZA is Professor Emeritus of Environmental Studies at the University of Vermont. She is the author of Mindfully Green: A Personal and Spiritual Guide to Whole Earth Thinking and Green Buddhism: Practice and Compassionate Action in Uncertain Times (forthcoming from Shambhala Publications). She is the editor of Hooked!:Buddhist Writings on Greed, Desire, and the Urge to Consume and coeditor (with Kenneth Kraft) of Dharma Rain: Sources of Buddhist Environmentalism.

DAVIS TE SELLE attended California College of Arts and Crafts and holds an M.F.A. in printmaking from San Francisco Art Institute where he studied with Kathan Brown, Richard Graf, and Gordon Cook. He has shown his work in group and solo exhibitions on both east and west coasts and most recently received the prestigious James D. Phelan Award for printmaking in California. He has taught drawing and printmaking at the University of Vermont and currently has a studio in Portland, Oregon.