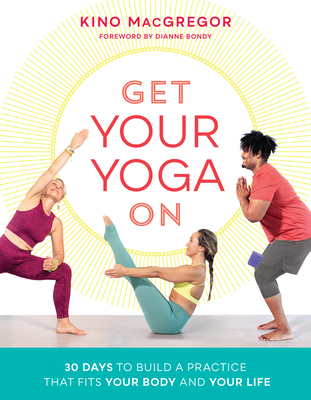 Get Your Yoga On (Paperback)
30 Days to Build a Practice That Fits Your Body and Your Life
Shambhala, 9781611807219, 168pp.
Publication Date: September 1, 2020
* Individual store prices may vary.
Description
Yoga is a healthful, stress-busting, powerfully life-changing practice that is truly for everyone! You don't need to be young, flexible, or athletic to do yoga, and you don't need to spend hours on the mat. You just need to be yourself and commit to practicing at least five minutes a day. 

Here, renowned yogi Kino MacGregor presents a basic, self-paced plan to encourage you to try each of the thirty foundational poses included and slowly build a regular yoga practice. Through step-by-step instructions, over two hundred color photographs, and modifications for different body types and abilities, Kino makes yoga possible at whatever level you may be. By challenging yourself for just five minutes a day, you will end up learning a strong, basic yoga sequence that you can grow and adapt for a lifetime of yoga.
 
Readers will also get free access to an online companion course on Omstars (www.omstarts.com)!
About the Author
KINO MACGREGOR is one of only fourteen people--and the youngest woman--in the United States to receive certification to teach Ashtanga Yoga. She has an international following of her own and a busy schedule of teaching gigs at seminars and yoga conferences worldwide. She is a life coach and has a master's degree from New York University. MacGregor and her husband, Tim Feldmann, are the founders of the Miami Life Center (www.miamilifecenter.com), where they teach daily classes, workshops, and intensives together. MacGregor was featured in Yoga Journal as one of the top twenty-one rising stars of yoga. She is the cofounder of OmStars, a 24-hour yoga television channel and is the author of The Power of Ashtanga Yoga I, The Power of Ashtanga Yoga II, and The Yogi Assignment.
Praise For Get Your Yoga On: 30 Days to Build a Practice That Fits Your Body and Your Life…
"The representation and modifications in this book make my heart sing! A must-have for all yoga practitioners!"—Jessamyn Stanley, author of Every Body Yoga
 
"If you're looking to design a practice unique to your needs, lifestyle, and body, then this is a great resource to begin! Filled with insightful information and practical instructions, this is a book that meets people where they're at, and allows them to flourish. As someone who has advocated for yoga for every body and everyone for over a decade, I'm thrilled to see this message growing in power and scope. The more people who can get on the mat, the better!"—Melanie Klein, editor of Yoga Rising
 
"Get Your Yoga On is an accessible, diverse, and well-versed book that illustrates the power of asana practice on our bodies, minds, and spirits. Kino's deep knowledge of yoga, paired with her unique ability to make it approachable, are beautifully displayed in this book, and remind us that yoga is for every body."—Sahara Rose, bestselling author of Eat Feel Fresh 

"As someone who grew up with yoga as a way of life, but who didn't fit the norm in yoga studios, I deeply appreciate how Kino MacGregor intentionally curates belonging in her new book. She takes the time and care to share the depth of Ashtanga practice and to make it more accessible and available to us. Her book goes far beyond tokenism, to true inclusion. Folks of all different sizes, colors, experiences, and styles practice in ways that invite us all into deepening our asana. It makes me jump and wiggle with joy to see a book like this that is helping to truly change the face of yoga. I highly recommend this book for all practitioners of yoga! I love it!"—Susanna Barkataki, yoga teacher writer, and yoga culture advocate

"Thanks to Kino McGregor for this gift of making yoga available to all of us—whether circumstances allow five minutes or five hours; whether we are healthy, sick, injured, or even getting older. We learn to start where we are, to work patiently and slowly in order to grow the real loving kindness of yoga, becoming honestly embodied, to reveal the profound relief, joy, and fun that is yoga."—Richard Freeman and Mary Taylor, authors of The Art of Vinyassa