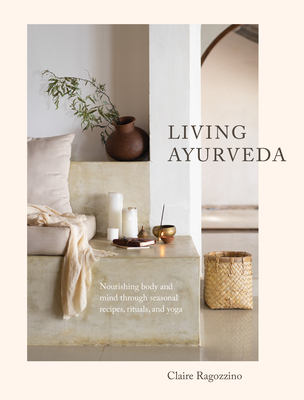 Living Ayurveda
Nourishing Body and Mind through Seasonal Recipes, Rituals, and Yoga
Hardcover

* Individual store prices may vary.
Description
A hands-on holistic guide to self-care based on the ancient wisdom of Ayurveda—learn how to build a daily personal practice using food, breath, movement, and meditation to stay balanced and nourished through the seasons. 

Nourishment comes in many forms—it's the food you eat, how you breathe and move your body, and the way you establish your daily routine. Living Ayurveda weaves together the ancient wisdom of Ayurveda and Yoga in a modern, accessible way to provide a season-by-season guide for living a vibrantly rich year. Part cookbook, part lifestyle manual, each chapter includes simple vegetarian recipes, seasonal rituals, and self-care practices to cultivate your inner wisdom and feed your body, mind, and spirit. 
 
In this book, you'll find:

   • 80+ delicious vegetarian recipes to balance the body and strengthen digestion through the seasons

   • Illustrated menu guides and cooking tips that demystify the process of building a balanced meal

   • Yoga sequences and breathing techniques to help align with the energy of each season

   • Seasonal rituals based on moon cycles to strengthen your intuition and develop a personal routine at home 

Learn from ancient wisdom to know yourself intimately, be open to new discoveries, and see where this path takes you to allow a deeper wisdom to blossom in your life.
Praise For Living Ayurveda: Nourishing Body and Mind through Seasonal Recipes, Rituals, and Yoga…
"Ayurveda is a system of ageless wisdom and timeless healing for the body, mind, and consciousness of every individual. In this book, Claire clearly explains a most practical application of Ayurvedic wisdom regarding seasonal regimen, diet, and lifestyle. I think this book will serve many people, including Ayurvedic practitioners and students."—Dr. Vasant Lad, BAMS, MASc, Ayurvedic physician, and author of Ayurveda: The Science of Self-Healing, the Textbook of Ayurveda series, and more

"Living Ayurveda elegantly weaves together food, breath, and movement through the seasons, bringing to life the timeless, relevant, and accessible wisdom of Ayurveda. From your yoga mat to your kitchen, from big choices to the smallest moments of transition, Claire's seasonal practices explore the relationship of body and mind to nature's vital influences. Each page of this artfully designed book will leave you feeling attuned to your inner wisdom and your most sustainable wellness."—Elena Brower, yoga teacher and bestselling author of Practice You and Art of Attention
 
"I'll admit, I was a bit intimidated and skeptical of Ayurveda before meeting Claire. But her modern approach, practical wisdom, and unwavering passion made me a believer. This book is the ultimate guide to understanding and applying this powerful ancient medicine to the world we live in today."—Jessica Murnane, author of One Part Plant and host of One Part Podcast
 
"Claire presents the power of Ayurvedic wisdom in a stunning collection of doable recipes, rituals, and methods that you'll want to practice every day. She has a gift for empowering you to practice self-observation without judgment and you'll be inspired to nourish yourself inside and out with her simple methods and delicious, seasonal, balancing recipes. The answers to vibrant health and greater presence in your life can be found within these gorgeous pages, and as they'll help you to understand, they're all around us in nature as well!"—Heather Crosby, nutritionist and author of Yum Universe and Pantry to Plate
 
"In this stunning book, Claire distills the complexity of Ayurveda and delivers it to you on the level of intuition. She shows you the language of this mind-body-soul system and then provides accessible advice on using it in your everyday life. Seeking that balance of our inner and outer worlds is much less intimidating with her prompts for self-inquiry, recipes for true nourishment, and her seasonal guidance for injecting sacred practices into the normal rhythms of our everyday lives."—Laura Wright, author of The First Mess Cookbook
 
"The art and wisdom of Ayurveda is in restoring us to the deep nourishment of nature and a life that honors the ebb and flow of our own breath, our own heart, our own personal tides. Luminously told, this book invites you into that life, where tuning in to nature blossoms deep wisdom, and gentle self-care weaves you back into the fabric of belonging. More than an informational book on Ayurveda, this is a guide to living grace, and to loving yourself beautiful."—Laura Plumb, author of Ayurveda Cooking for Beginners

"Part cookbook and part lifestyle guide, this book serves as a manual for holistic living and self-care based on the ancient practice of Ayurveda. Each chapter includes a series of vegetarian recipes, seasonal rituals, and daily practices to help nourish your body and soul."—Book Riot

Roost Books, 9781611807493, 320pp.
Publication Date: November 24, 2020
About the Author
CLAIRE RAGOZZINO is a certified yoga instructor and Ayurvedic practitioner with a background in holistic nutrition and natural cooking. Her work is dedicated to bringing yoga, Ayurveda and nutrition to a modern lifestyle. She is the author of the popular blog, Vidya Living, and also writes and photographs for online and print publications surrounding topics of food, culture and our relationship to nature. Claire works with clients around the globe and leads immersive workshops and retreats. Learn more at www.vidyaliving.com.