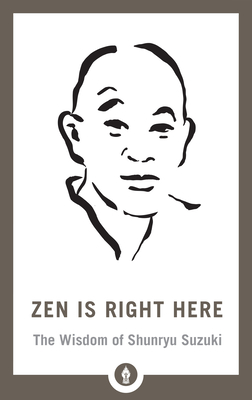 Zen Is Right Here
The Wisdom of Shunryu Suzuki (Shambhala Pocket Library)
Paperback

* Individual store prices may vary.
Other Editions of This Title:
Paperback (10/9/2007)
Description
The profound Zen teachings of Suzuki Roshi brought to life by personal stories and anecdotes from his students.

Shunryu Suzuki's extraordinary gift for conveying traditional Zen teachings using ordinary language is well known to the countless readers of Zen Mind, Beginner's Mind. In Zen Is Right Here, his teachings are brought to life powerfully and directly through stories told about him by his students. These living encounters with Zen are poignant, direct, humorous, paradoxical, and enlightening; and their setting in real-life contexts makes them wonderfully accessible.

Suzuki Roshi gave profound teachings that were skillfully expressed for each moment, person, and situation he encountered. He emphasized that while the ungraspable essence of Buddhism is constant, the expression of that essence is always changing. Each of the stories presented here is an example of this versatile and timeless quality, showing that the potential for attaining enlightenment exists right here, right now, in this very moment.

This book is part of the Shambhala Pocket Library series.

The Shambhala Pocket Library is a collection of short, portable teachings from notable figures across religious traditions and classic texts. The covers in this series are rendered by Colorado artist Robert Spellman. The books in this collection distill the wisdom and heart of the work Shambhala Publications has published over 50 years into a compact format that is collectible, reader-friendly, and applicable to everyday life.
Praise For Zen Is Right Here: The Wisdom of Shunryu Suzuki (Shambhala Pocket Library)…
"These brief personal stories, which are contributed anonymously, offer a strong sense of Suzuki Roshi, his teachings, and his enduring sense of humor."—Publishers Weekly

"Like a temple bell that strikes through the air to the heart of sound, these anecdotes and quotes offer humor, wisdom, enlightenment, brio, and a perfect example of a Zen life lived every day—that of Soto Zen priest Shunryu Suzuki who helped introduce thousands of Americans to Zen. . . . Flip through the book at random and you will find a gem on any given page. This book is an instruction manual for living your Zen outside the meditation hall."—Japan Times

"A delightful, thought-provoking, and eminently wise collection of teachings."—Spirituality and Health
Shambhala, 9781611807875, 160pp.
Publication Date: October 22, 2019
About the Author
Shunryu Suzuki (1904–1971) was one of the most influential spiritual teachers of the twentieth century and is truly a founding father of Zen in America. A Japanese priest of the Soto lineage, he taught in the United States from 1959 until his death. He was the founder of the San Francisco Zen Center and the Tassajara Zen Mountain Center. He is the author of Zen Mind, Beginner's Mind and Branching Streams Flow in the Darkness: Zen Talks on the Sandokai, and he is the subject of the biography Crooked Cucumber by David Chadwick.