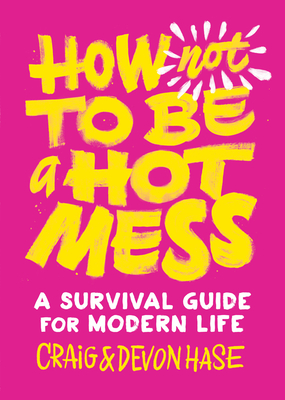 How Not to Be a Hot Mess (Hardcover)
A Survival Guide for Modern Life
Shambhala, 9781611807981, 160pp.
Publication Date: April 21, 2020
* Individual store prices may vary.
Description
The dumpster fire of life rages on, but you got this. Practice six rules to keep you grounded, weather the sh*tstorm, and actually be a decent person.

It may seem like the world's going to hell in a handbasket right now. Whether it's the big stuff like politics, family dynamics, and climate change, or the little stuff like paying your bills, getting to work on time, and fending off social media trolls, we can all admit, life's no cakewalk. And yet, we all really want to at least try to show up and do the best we can (even though there's a 100% chance of f*ck-ups along the way). Here are six really good guiding principles, inspired from the ancient wisdom of Buddhism and mindfulness practice, to keep you anchored and steady amidst the chaos.
About the Author
CRAIG AND DEVON HASE are the cofounders of SATI Mindfulness, which provides personal coaching, online classes, and mindfulness workshops and retreats throughout North America and Europe. Devon serves on retreat teams for the Insight Meditation Society and Spirit Rock, is a mentor in Jack Kornfield and Tara Brach's Mindfulness Meditation Teacher Certification Program, and is a coach on the Ten Percent Happier app. Craig holds a PhD in counseling psychology, works as a therapist and coach, and teaches on the online platform Simple Habit. To learn more, visit www.satimindfulness.com
Praise For How Not to Be a Hot Mess: A Survival Guide for Modern Life…
"Smart, deep, and inspiring, this 'survival guide' shines a light on the societal forces that confuse our minds and close our hearts, and offers do-able and rewarding ways to clear, heal, and free ourselves.  You have in your hands a fun-to-read book that can up-level your game as an awake, honest, kind, generous, happy being."—Tara Brach, author of Radical Acceptance
 
"In their excellent first book, Devon and Craig Hase offer a remarkably effective roadmap to living life with greater ease and full integrity. I'm delighted to recommend this new book to absolutely everyone—especially millennials."—Susan Kaiser Greenland, author of Mindful Games and The Mindful Child, founder of Inner Kids