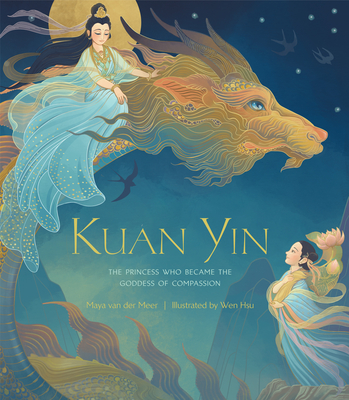 Kuan Yin
The Princess Who Became the Goddess of Compassion
Hardcover

* Individual store prices may vary.
Description
Spirituality & Practice "Best Books of 2021" Award Winner
Bank Street College of Education "The Best Children's Books of the Year" 


Two sisters discover the power of love and the true meaning of compassion in this princess-adventure story based on an ancient Chinese tale.

Miao Shan isn't your typical princess. She likes to spend her time quietly meditating with the creatures of the forest or having adventures with dragons and tigers. Miao Shan's heart is so full of love that her dream is to spread happiness throughout the land and help people endlessly. But her father has other plans for her--he intends to have her married and remain in the palace. With the help of her little sister Ling, Miao Shan escapes and begins her journey to discover the true meaning of compassion.

During their adventure, Ling and Miao Shan are eventually separated. Ling must overcome doubts, fears, and loneliness in order to realize what her sister had told her all along--that love is the greatest power in the world. After the sisters' reunion, Miao Shan realizes her true calling as Kuan Yin, the goddess of compassion. A princess-adventure story like none other, this ancient Chinese tale of the world's most beloved Buddhist hero is a story of sisterhood, strength, and following your own path.
Praise For Kuan Yin: The Princess Who Became the Goddess of Compassion…
"Children will be fascinated by this gorgeously crafted picture book, which has the familiar elements of a fairy tale but may expose some readers to a narrative and culture that might not be familiar to them."—Booklist, Starred Review
 
"This retelling of the beloved Bodhisattva, enlightened being, takes the elements of the original story and includes themes of sisterhood and strength. Hsu's illustrations are vivid and detailed, and the line work and bold patterns pull readers deeper into the story. The deep, rich tones of the palace in the beginning shift to softer, brighter pastels as Miao Shin transforms into Kuan Yin. An author's note at the end includes other names for Kuan Yin and informs how she is generally depicted throughout the Buddhist world."—School Library Journal

"Detailed illustrations lift this family-focused introduction to the bodhisattva of compassion."—Kirkus Reviews

"With intricate illustrations reminiscent of Chinese paper cuts, the origin story of a beloved Buddhist saint is reimagined for a new audience."—Foreword Reviews

"Kuan Yin is a book to treasure."—The Children's Book Review 

"A gorgeously illustrated and inspired retelling of the Kuan Yin story from the perspective of her younger sister. This book will not only intrigue minds but also help awaken hearts, in children and in those adults fortunate enough to get to read to them."—Spirituality & Practice

"Maya van der Meer has created a world in a book. And it is a world I've been waiting for—where the hero is a young woman who uses a different kind of power than the kind every other superhero brandishes. She's strong and courageous, and she does what she needs to do. But there's no treachery, no violence, no battles. Instead there is steadfastness, compassion, and love. The book reads like an adventure story, all wrapped up in the beautiful illustrations of Wen Hsu."—Elizabeth Lesser, cofounder of Omega Institute and author of Broken Open
 
"Maya van der Meer and Wen Hsu's Kuan Yin is a beautifully illustrated book that shares the Chinese legend of Princess Miao Shan, who forsakes marriage and wealth in order to fulfill her vow of compassion as the bodhisattva Kuan Yin. This intimately narrated book shares the story of the princess and her transformation into the beloved Buddhist Goddess of Compassion through the eyes of her younger sister, Princess Ling. Through Princess Miao Shan's refusal to marry against her father's wishes and her ultimate wish to save all sentient beings, readers are introduced to the virtues of love, compassion, and forgiveness. I only wish that I had this book when my children were young so they could have been introduced to Princess Miao Shan earlier in their lives!"—Sharon A. Suh, professor of Buddhism, Seattle University 
 
"This collaboration between Maya van der Meer and Wen Hsu is a lovely rendering of the Miao Shan legend and Kuan Yin. It effectively conveys core themes of compassion, affirmation of sentient life, and selfless giving for all ages, in particular the young and curious!"—Mark Unno, associate professor of Buddhism, University of Oregon
 
"A beautifully rendered, gorgeously illustrated tale of the power of love, the strength of our human bonds, and the heart of compassion that leads us to true freedom. Kuan Yin offers us a message we all long to hear."—Paula Saunders, author of The Distance Home

"A stunning story, beautifully illustrated, with a timeless message for both children and adults!"—Elizabeth Mattis Namgyel, author of The Logic of Faith
 
"With graceful storytelling, Maya van der Meer conveys both the courageous loyalty of sibling princesses and the seriousness of Miao Shan's renunciation of royal life to fulfill her compassionate aspirations to benefit all living beings. The illustrations by Wen Hsu are gorgeous; the book's enchantment lingers long after."—Chagdud Khadro, former managing editor of Padma Publishing
 
"I was truly moved by this beautiful story of Kuan Yin. It is exquisitely illustrated and superbly written, for children and adults alike. The message of the power of love is an important reminder for us all. One is taken on an enchanting journey, a journey that softens the heart."—Traleg Khandro, director of E-Vam Buddhist Institute
 
"Kuan Yin is a powerful story about the heart's ability to encompass everything. Beautifully illustrated and told, it simply and directly awakens that love deep inside of us all. This is an important book for our time."—Barbara Bash, author and illustrator of Desert Giant: The World of the Saguaro Cactus
 
"Turning the old-school princess story inside out, here we meet a brave woman who chooses love for all creatures over romantic obsession. With illustrations as glorious as the story itself, this is exactly the book we all need right now—regardless of age, gender, or religion."—Bethany Saltman, author of Strange Situation: A Mother's Journey into the Science of Attachment
 
"Maya van der Meer and Wen Hsu's Kuan Yin is a valuable contribution to the world of children's literature. The message of this beautifully illustrated book will resonate with all who aspire to build a world filled with loving-kindness. While it is written with young readers in mind, it can be enjoyed by thoughtful individuals of all ages!"—Mary Ruth Coleman, PhD, senior scientist, emerita at the FPG Child Development Institute at The University of North Carolina at Chapel Hill and research associate professor in the School of Education
 
"Kuan Yin is a wise and precious book. Children will be inspired by Princess Miao Shan's courage and comforted to know the story of how she is always with us."—Trish Malone, MA, LCSW-R
 
"This powerful story explores the themes of obedience to an unjust society and the courage to step outside the norm in order to cultivate the greater kindness that exists in all of us. The characters give voice to our deepest need for connection and the human struggle of self-discovery."—Nina Schmidbaur, LCSW
 
"Although the legend of Kuan Yin, the goddess of compassion, is a classic Buddhist story, Maya van der Meer's telling highlights the universal human virtues at its core that show us how ordinary people can live extraordinary lives. The transformative power of love, the altruistic wish to serve others, and the courage to trust one's own wisdom, even if outer circumstances discourage it, are vital and empowering messages that can inspire children to lead meaningful and fulfilling lives. These timeless lessons are the cornerstones of an education that will prepare them to meet and serve the world. Wen Hsu's exquisite illustrations bring the text to life in a magical dance between words and images. This book is a treasure of wisdom and beauty."—Odette Estefan, contemplative educational consultant
 
"Kuan Yin is a must-read for young children today! Every page brings delight as the tale of Miao Shan is revealed through the eyes of her younger sister, Ling. The words are woven together with compassion for every character. This book demonstrates for young readers the power of trusting one's spiritual path and the power of love. It's a beautiful read that can't be missed!"—Lo DeWalt, PhD, literacy coordinator
Bala Kids, 9781611807998, 32pp.
Publication Date: May 4, 2021
About the Author
MAYA VAN DER MEER is an author, educator, environmentalist, and long-time Buddhist practitioner. She is the founder of the online education platform Bodhi Kids and assists Buddhist communities in establishing or enhancing their children's programming. Maya has run children's programs at meditation retreats and was an instructor at the Middle Way School in Woodstock, New York, where she currently lives with her life partner and their children.

WEN HSU is a Taiwanese-Costa Rican illustrator. She has a wide range of styles working with papercuts, ink, watercolor, textiles and digital art. She has illustrated stories for children in Guatemala, Nicaragua, Costa Rica, India, Japan, Korea, and China. Wen has had a personal connection with Kuan Yin since she was a child, stemming from the bedtime stories her father told about the bodhisattva and trips to the Kuan Yin temples in Taiwan she took with her grandmother.