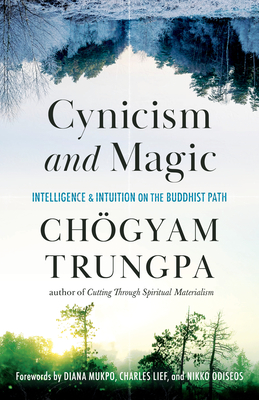 Cynicism and Magic
Intelligence and Intuition on the Buddhist Path
Paperback

* Individual store prices may vary.
Description
A groundbreaking, accessible presentation of Tibetan Buddhism from Chögyam Trungpa, renowned twentieth-century master and teacher.

Based on a series of talks given by Chögyam Trungpa during the first session of what was to become Naropa University, Cynicism and Magic introduces key Tibetan Buddhist concepts, including karma, the structure of ego, the paramitas, and the bodhisattva. Employing a unique and intimate teaching style, Trungpa Rinpoche presents these concepts in a larger framework of questions we all have: What is authentic spirituality? Can I find enlightenment and freedom? How should I approach life, death, suffering, and boredom? How can I develop some discipline, patience, and sanity?

Through these accessible teachings, this book will show you how to approach a living dharma with intelligence, and with a sense of openness and wonder.
Praise For Cynicism and Magic: Intelligence and Intuition on the Buddhist Path…
"The teachings in this magical book come from the same period I first met Trungpa Rinpoche, which marked the radical turning point in my life. Reading this brought me right back to those days when he pointed out to me the pitfalls of spiritual materialism and how I could discover my own basic sanity. I hope a new generation of readers can catch the spark from the wisdom they will find here from Trungpa Rinpoche in his truest essence."—Pema Chödrön, author of When Things Fall Apart

"A book of deep wisdom that offers Trungpa's signature profundity permeated with humor, Cynicism and Magic illuminates the path of the heart-warrior with crystal clear light. There's a kind of music under these words—a treasure!"—Devendra Banhart

"This book shows Trungpa Rinpoche's genius, his superb talent in communicating traditional teachings of the Mahayana buddhadharma. He presents seminal topics in an elegant and easy-to-digest way, always full of humor and common sense. His ability remains unmatched among authors on the subject of buddhadharma. I am so glad that the addition of this book to the collected treasures of Trungpa Rinpoche's teachings will inspire, educate, and move generations to come."—Dzigar Kongtrul Rinpoche, author of Peaceful Heart
Shambhala, 9781611808094, 192pp.
Publication Date: August 17, 2021
About the Author
CHÖGYAM TRUNGPA (1940-1987)--meditation master, teacher, and artist--founded Naropa University in Boulder, Colorado, the first Buddhist-inspired university in North America; the Shambhala Training program; and an international association of meditation centers known as Shambhala International. He is the author of numerous books, including Shambhala: The Sacred Path of the Warrior, Cutting through Spiritual Materialism, and The Myth of Freedom.

THE OPENING THE DHARMA TREASURY EDITORS GROUP was formed by Carolyn Rose Gimian and Judith L. Lief, the two foremost editors of Chögyam Trungpa Rinpoche, in order to transmit the craft and knowledge of editing to a new generation. The Editors Group comprises dedicated practitioners from far and wide, working together to transcribe, prepare, and publish new volumes from an archive of over a thousand as yet untouched recorded teachings of Chögyam Trungpa. Members of the group include Jonathan V Daniel, Harry Einhorn, Alicia Fordham, Diana Goetsch, Cassell Gross, Diana Janowitz, Ryan John Jones, Trudee Klautky, Travis May, Ella Milligan, Carla Marie Mueller, Daniel Nguyen, Tillie Perks, Emma Sartwell, Nate Spear, and Jade Weston.