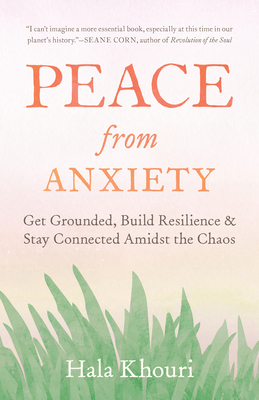 Peace from Anxiety
Get Grounded, Build Resilience, and Stay Connected Amidst the Chaos
Paperback

* Individual store prices may vary.
Description
A holistic approach to easing anxiety without hiding from the world's challenges.

Overwhelming anxiety and stress--most of us experience these feelings at some point. The challenges in our lives threaten to overpower us at times and the struggles we see in the world further add to the burden. Peace from Anxiety helps us understand the deep roots of our suffering so that we can work toward finding more peace--even in chaos. Therapist and yoga teacher Hala Khouri takes us on a journey to investigate our personal habits, understand our lives, and transform what doesn't serve us. Even though the roots of our anxiety, stress, and pain may feel complicated, healing doesn't have to be.

Khouri explores how our brain and nervous system experience stress and discusses how we can begin to get in touch with our body to better understand its signals and how to handle them. She delves deeply into the primary causes of anxiety and offers practical tools for releasing stress and being present with discomfort. Peace from Anxiety discusses topics including trauma, relationships, technology, and working not only for individual healing but also collective healing in our world. Filled with relatable stories and examples, each chapter offers a range of practices and tools to help us find more peace and work for good in our own lives and the lives of others.
Praise For Peace from Anxiety: Get Grounded, Build Resilience, and Stay Connected Amidst the Chaos…
"I can't imagine a more essential book, especially at this time in our planet's history."—Seane Corn, author of Revolution of the Soul
 
"I can say positively, and with the authority of someone who has been extremely candid in the public eye about her experience with anxiety, that this is the book we've all been waiting for. Whether you yourself deal with anxiety isn't a prerequisite for reading, because you know someone who does. We all do. This beautiful book is a guide on how to be human. Filled with grace, practical lessons, and guidance, Hala Khouri has offered us a life-saving gift."—Jennifer Pastiloff, author of On Being Human 
 
"Peace from Anxiety is full of life-changing ideas and practices. Hala Khouri shares a rare blend of wisdom and compassion that is rooted in personal experience, deep study, and a devotion to helping others. This is a book that will make you feel braver, supported, and hopeful."—Kelly McGonigal, PhD, author of The Upside of Stress
 
"This book is medicine for our time. It reminds us what we seem to have lost or been robbed of—that we are connected, that we belong, that the peace we hope to cultivate internally and externally have everything to do with each other. Hala artfully explores how embodying our interconnectedness—between our own physical, emotional, spiritual, and mental bodies, as well as between ourselves and others—creates the foundation of well-being and intrinsic interdependence that not only enables us to survive anxiety or despair but actually thrive in spite of it."—Tessa Hicks Peterson, PhD, Pitzer College
 
"With a deep commitment to compassion and an avoidance of magical thinking, Hala Khouri promotes a culture of care by encouraging a global heart, critical consciousness, and active hope. The book offers a profound prescription for living with more reflection, peace, and connection in a world under threat."—Helene Shulman Lorenz, PhD, Pacifica Graduate Institute, author of Toward Psychologies of Liberation
 
"An accessible, engaging, and practical guide to healing from anxiety, both individually and collectively. Drawing on relatable stories from her own life, yoga teaching, and therapeutic experience, Hala Khouri offers practical insight into bringing ourselves back into regulation and living a more grounded life. I have learned so much from Hala and use these practices all the time! This book situates anxiety in the context of structural inequalities and social justice, showing us how inner peace is intimately intertwined with an outer world of justice and peace. It reminds us that we heal in connection with one another and offers us ways of doing so. This book offers much-needed somatic healing tools for our turbulent times."—Beth Berila, PhD, St. Cloud State University
 
"I have worked alongside Hala for well over fifteen years and know her to be highly intelligent, powerfully articulate, warm and inviting, and nuanced in her understanding of trauma and its many layered causes. This book is a breath of fresh air and exactly the kind of accessible and effective tool we all need in these times of change and crisis. I am confident that it will welcome, inspire, and support you in your journey to peace."—Suzanne Sterling, Voice of Change, cofounder of Off the Mat, Into the World
 
"Hala Khouri, the cofounder of Off the Mat Into the World, has generously gathered her considerable wisdom in this book, indissolubly linking self-care with collective care. As we uncover how our personal anxieties and fears intermingle with those for our global neighbors and the natural world, Khouri tutors us on how to calm the nervous system and cultivate our relationship with suffering so that we can see and act with greater clarity."—Mary Watkins, PhD, author of Mutual Accompaniment and the Creation of the Commons
 
"It's hard to imagine any better time to have a thoughtful, straightforward book that directs us into deeper relationship with our selves. Peace From Anxiety doesn't bypass what incites us to be anxious personally and collectively, but it also doesn't leave us stuck with information overload. Hala Khouri balances context, examples, and relatable stories with reaffirming, down-to-earth practices that bring us back home to the bodies we all yearn to be comfortable in. There's something for anyone who wants to learn in this tender guide."—Rev. angel Kyodo Williams, co-author, Radical Dharma: Talking Race, Love, and Liberation
Shambhala, 9781611808100, 272pp.
Publication Date: April 13, 2021
About the Author
HALA KHOURI, MA, is a therapist, yoga teacher, and somatic experiencing practitioner known for her nuance, compassion, and humor in addressing difficult topics such as stress, anxiety, and trauma. One of the founders of Off the Mat and Into the World, Hala teaches workshops on yoga, anxiety, trauma, resilience, and social justice nationally.