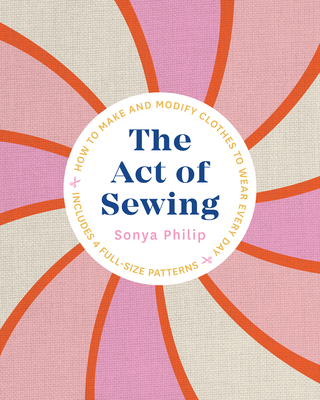 The Act of Sewing
How to Make and Modify Clothes to Wear Every Day
Paperback

* Individual store prices may vary.
Description
An in-depth guide to sewing simple garments--with four full-size patterns and all the tricks of alteration and embellishment explained so that you can make a wardrobe all your own.

Maybe you learned to sew in school and have a sewing machine, but it hasn't seen the outside of the closet since your last move. Or maybe you are completely new to the craft, with a lot of enthusiasm, but no idea how to thread your machine. No matter where you're coming from in terms of experience, this sewing workbook offers four basic patterns--two tops, a skirt, and a pair of pants--that empower you to express your personal style and make clothes that are comfortable for your body type.

After explaining the basic concepts of sewing and construction, 100 Acts of Sewing designer Sonya Philip then provides suggestions for mixing the basic patterns together to create new garment iterations as you gain confidence--structural adjustments such as full bust, no bust, long torso, big, small, etc., as well as a range of possible alterations and embellishments including sleeves, pockets, hems, and more! Going beyond simple pattern instructions, this book will make sewing garments accessible for every body type--each pattern comes in sizes ranging from XS to 5X. With inspiring essays on Sonya's sewing philosophy that speak to the slow and ethical fashion movement, this will be the go-to guide for all aspirational and seasoned sewists.
Praise For The Act of Sewing: How to Make and Modify Clothes to Wear Every Day…
"Sonya Philip was one of my first sewing teachers, and The Act of Sewing encapsulates everything I love about Sonya's teaching style: it's gracious, accessible, encouraging, and forgiving. In the book's essays and sewing instructions, Sonya goes far beyond teaching the technical aspects of sewing. Her thorough, thoughtful guide encourages readers to think about sewing as more than the mere act of creating a garment but as a way to define and assert our style, and to love our bodies."—Jen Hewett, author of Print, Pattern, Sew

"Keep this book close at hand. Dog-ear the pages. Allow Sonya and her clear, concise instructions to guide you through making a wardrobe that reflects who you are and teaches you the skills to design and sew clothing that is uniquely yours."—Kristine Vejar, owner of A Verb for Keeping Warm and author of The Modern Natural Dyer and Journeys in Natural Dyeing
 
"What a lovely book! The Act of Sewing is very encouraging, versatile, and packed with sewing techniques."—Sanae Ishida, author of Animal Friends to Sew
Roost Books, 9781611808339, 176pp.
Publication Date: April 27, 2021
About the Author
SONYA PHILIP is an artist, designer, and teacher. In 2012, she started a project called "100 Acts of Sewing," making dresses while documenting the process. Since then Sonya has made it her mission to convince people to sew their own clothes. Sonya lives in San Francisco with her family.