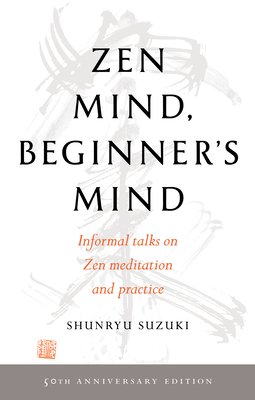 Zen Mind, Beginner's Mind
50th Anniversary Edition
Paperback

* Individual store prices may vary.
Other Editions of This Title:
Hardcover (10/10/2006)
Paperback (6/28/2011)
Description
Named one of the 100 Best Spiritual Books of the Twentieth Century (Spirituality & Practice)

A 50th Anniversary edition of the bestselling Zen classic on meditation, maintaining a curious and open mind, and living with simplicity.

"In the beginner's mind there are many possibilities, but in the expert's there are few."

So begins this most beloved of all American Zen books. Seldom has such a small handful of words provided a teaching as rich as has this famous opening line. In a single stroke, the simple sentence cuts through the pervasive tendency students have of getting so close to Zen as to completely miss what it's all about. It is an instant teaching on the first page--and that's just the beginning.

In the fifty years since its original publication, Zen Mind, Beginner's Mind has become one of the great modern spiritual classics, much beloved, much reread, and much recommended as the best first book to read on Zen. Suzuki Roshi presents the basics--from the details of posture and breathing in zazen to the perception of nonduality--in a way that is not only remarkably clear, but that also resonates with the joy of insight from the first to the last page.
Praise For Zen Mind, Beginner's Mind: 50th Anniversary Edition…
"One of the best and most succinct introductions to Zen practice."—Library Journal

"Though covering Zen basics like zazen posture, bowing, intention, and so on, Suzuki Roshi's masterwork is hardly just for Zen people—or just for beginners, for that matter. It skillfully introduces important Buddhist concepts like non-attachment, emptiness, and enlightenment."—Lion's Roar

"I sincerely respect and applaud Shunryu Suzuki Roshi, who transmitted Dogen Zenji's vow to the U.S.A."—Shundo Aoyama Roshi, former Shike`Kai Kaichoh, "Teacher of the House of Soto Zen," and author of Zen Seeds
Shambhala, 9781611808414, 176pp.
Publication Date: June 2, 2020
About the Author
Shunryu Suzuki (1904–1971) was one of the most influential spiritual teachers of the twentieth century and is truly a founding father of Zen in America. A Japanese priest of the Soto lineage, he taught in the United States from 1959 until his death. He was the founder of the San Francisco Zen Center and the Tassajara Zen Mountain Center. He is the author of Zen Mind, Beginner's Mind and Branching Streams Flow in the Darkness: Zen Talks on the Sandokai, and he is the subject of the biography Crooked Cucumber by David Chadwick.