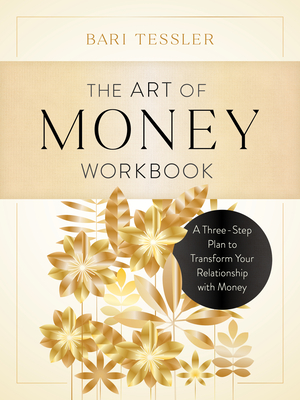 The Art of Money Workbook
A Three-Step Plan to Transform Your Relationship with Money
Paperback

* Individual store prices may vary.
Description
The first-of-its-kind workbook that uses three easy steps to repair your relationship with money, from financial therapist Bari Tessler.

Few things in life can feel as stressful and daunting as money and finances—get ready for that to change. The Art of Money Workbook offers an empowering new framework to create sustainable change and strengthen your relationship with money.

Tessler offers a program that integrates practical financial tools with supportive somatic practices to bring more compassion, honesty, and awareness to your relationship with money. Her three-phase process—Money Healing, Money Practices, and Money Maps—will help you make choices that reflect your values, become aware of spending patterns, and create new financial habits. This workbook offers self-reflective exercises and tools that will encourage you to write your own money memoir, set regular money dates (with yourself and/or your partner), and plan for the future.

Bari Tessler is a warm, compassionate guide with a Masters Degree in Somatic Psychology—and for over twenty years, her Art of Money methodology has helped thousands of people understand and navigate their financial life. Her gentle encouragement and practical tools will offer you new avenues for creativity and joy with an abundance of support.

Praise For The Art of Money Workbook: A Three-Step Plan to Transform Your Relationship with Money…
"Bari Tessler is gifted at helping people connect with their money stories and heal their relationship with money. The Art of Money is one of the first money books I recommend to our audience, and the guidance Bari provides throughout The Art of Money Workbook will help so many people dig deeper into their money relationship, discover how to interact with their money in a positive way, and align their money decisions with their true goals. No matter where you are in your money journey, we can all build a better relationship with our finances—and Bari can help you do it!"—Cheslea Brennan, founder of Smart Money Mamas

"With compassion and mastery, Bari Tessler invites you to not only investigate your 'money story' but to feel the impact money has on all aspects of your life. The Art of Money Workbook provides tools and practices to illuminate what you've relegated to the dark, guiding you to an empowered and meaningful relationship with money—and with yourself."—Nancy Levin, author of Worthy: Boost Your Self-Worth to Grow Your Net Worth

"In The Art of Money Workbook, Bari Tessler invites on a money journey as a path of self-discovery. By guiding us to look deeply at our relationship to money, she offers us the keys to more power, more freedom, and more happiness—minus the shame and dogma."—Kimberly Johnson, author of Call of the Wild and The Fourth Trimester Journal

"A gentle, beautifully written, and practical guide for everyone who wants to become more intentional, values-aligned, and awake in their relationship with money."—Tara Mohr, author of Playing Big
Shambhala, 9781611808445, 176pp.
Publication Date: June 7, 2022
About the Author
BARI TESSLER, M.A. Somatic Psychology, is a Financial Therapist and the Founder of The Art of Money. She is the author of The Art of Money: A Life-Changing Guide to Financial Happiness and The Art of Money Workbook. Her work has been featured on Oprah.com, Inc.com, US News & World Report, Reuters Money, The Fiscal Times, USA Today, The Cut, Girlboss, Nerd Wallet, Real Simple, MindBodyGreen, and REDBOOK. She has also been featured on the cover of Experience Life and Mindful. Bari is . Bari lives in Boulder, CO with her husband, son, and a clowder of cats.