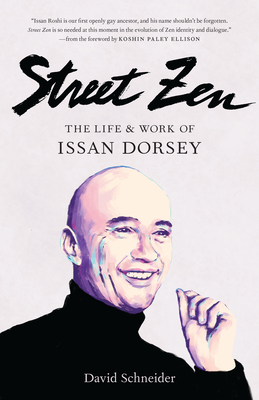 Street Zen
The Life and Work of Issan Dorsey
Paperback

* Individual store prices may vary.
Description
Drag queen. Prostitute. Drug addict. American bodhisattva.

These words describe the unlikely persona of Issan Dorsey, one of the most beloved teachers to emerge in American Zen. From his early days as a gorgeous female impersonator to the LSD experiences that set him on the spiritual path, Issan's life was never conventional. In 1989, after twenty years of Zen practice, he became the Founding Abbot of San Francisco's Hartford Street Zen Center, where he established Maitri Hospice for AIDS patients. Featuring Bernie Glassman's foreword to the second edition, as well as a new foreword by Koshin Paley Ellison, Street Zen paints a vivid portrait of a teacher whose creativity, honesty, joy, and compassion awakened new possibilities for American Buddhism.
Praise For Street Zen: The Life and Work of Issan Dorsey…
"Street Zen is about much more than the life of Issan Dorsey—it is an exploration of how the material of our whole lives can be used as fuel for awakening. Issan teaches us that becoming a Bodhisattva means learning how to hold compassionate space for the process of becoming who we need to be in order to set others free. Bodhisattvas emanate to meet the needs of those of us lost in the sea of delusion. Issan's life is a profound and timely expression for so many of us who do not see ourselves reflected in dharma communities."—Lama Rod Owens, author of Love and Rage and coauthor of Radical Dharma
 
"This is a fantastic book about a character I have long wanted to make a film about. A devastating life, and a heroic conclusion."—Gus Van Sant, director of Good Will Hunting and Milk
 
"A memorable account of an extraordinary man, unlike anyone I have ever known, whose life was full of strangeness, simplicity, and grace."—Joan Halifax, author of Being with Dying and Standing at the Edge
 
"A fascinating book. I think Issan's story contributes significantly to the history of the gay community and its response to AIDS, as well as to the history of Buddhism in America."—Randy M. Shilts, author of And the Band Played On and Conduct Unbecoming
 
"Well-researched, cleanly written . . . It details an amazing man and adds to our knowledge of gay history, Buddhist history, and AIDS activist history. . . . [O]verall, Street Zen is a wonderful tribute to a unique and heroic individual."—Lambda Book Report
 
"Schneider . . . presents an even-handed account of Dorsey's extraor­dinary life and death . . . It gives a clear handling of the paradox that was Dorsey and the great compassion that he embodied."—Library Journal
 
"A wonderful book I return to when I want to have my old room­mate and dharma pal Tommy Issan Dorsey back again to remind me to slow down and enjoy life. Thanks to David Schneider for this soulful biography."—David Chadwick, author of Crooked Cu­cumber: The Life and Zen Teaching of Shunryu Suzuki
 
"A crisp, candid, and utterly engaging read . . . an excellent addition to the still early annals of American Buddhism."—San Francisco Chronicle
 
"A biography of remarkable power and grace, it offers a striking model for the flourishing of Buddhism in America."—Jeff Zaleski, editor-in-chief, Parabola
 
"Religious history rings with tales of converted libertines—Saul, St. Augustine, Thomas Merton among them. Now, thanks to this wonderfully uplifting biography by freelance journalist Schneider, to that list can be added Issan Dorsey—the thieving, doping, female-impersonating gay hooker who became abbot of one of the nation's top Zen monasteries."—Kirkus Reviews
 
"A fascinating account of the life and death of an extraordinary teacher who was also a pioneer in the 'engaged Buddhism' that seems bound to be the way of American Zen."—Peter Matthiessen
 
"An inside look at Zen masters, their sublimity, scandals, and humanity, a tearful chronicle of home-grown American Buddhist heroism."—Allen Ginsberg
Shambhala, 9781611808476, 288pp.
Publication Date: June 9, 2020
About the Author
TENSHO DAVID SCHNEIDER began Zen practice in 1970 and was ordained as a Zen priest in 1977. He held the position of acharya (senior teacher) in the Shambhala International community from 1996 to 2019. He is coeditor with Kazuaki Tanahashi of Essential Zen, and author of Crowded by Beauty: The Life and Zen of Poet Philip Whalen. He lives in Cologne, Germany.
or
Not Currently Available for Direct Purchase