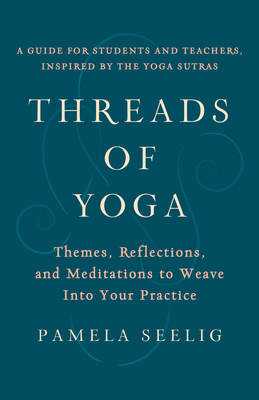 Threads of Yoga
Themes, Reflections, and Meditations to Weave into Your Practice
Paperback

* Individual store prices may vary.
Description
Deepen and enliven your yoga practice with 30 themes based on Patanjali's Yoga Sutras that can inspire on and off the mat.

Yoga draws many practitioners because of its physical benefits, but it is often the experience of peace that people return for. Threads of Yoga supports those seeking to learn more about yoga's deeper spiritual teachings. Each short chapter introduces a foundational yogic theme, such as letting go, the breath, the yamas and the niyamas, and the chakra system. Each theme is accompanied by practices, including meditation, complementary poses, breath work, or quotes to contemplate. It is an ideal guide for both practitioners and teachers who want to connect with the spiritual wisdom of yoga, deepen their personal practice, or develop and support a theme for yoga class.
Praise For Threads of Yoga: Themes, Reflections, and Meditations to Weave into Your Practice…
"Threads of Yoga is a timely honoring of this ancient, essential tradition. Thank you Pamela; this long-awaited resource is relevant for practitioners and teachers alike who long to live the wisdom of yoga and share it broadly with those who wish to learn."—Elena Brower, bestselling author of Practice You, Being You, and Art of Attention

"Threads of Yoga is a wonderful guide to deepening your connection to yoga. This book shares templates that can lead to a path of action. Themes and reflections integrated into our mindfulness practices helps us create a more meaningful sense of purpose in our lives."—Dianne Bondy, author of Yoga Where You Are and Yoga for Everyone

"A beautiful guide to weaving the wisdom of the yoga sutras into our life and practice. Threads of Yoga is full of rituals, contemplations, and inspiration to deepen our understanding and embodiment of yoga beyond the poses."—Tracee Stanley, author of Radiant Rest
 
"Threads of Yoga offers the reader insight into the deeper meaning and purpose of yoga, framed in the context of the world's wisdom traditions. Pamela Seelig systematically presents core themes of yoga in a simple and accessible way, offering practices that will give the reader an opportunity to have a direct experience of these timeless teachings. It is clear that Pamela's writing is informed not only from her extensive study but also from the depth of her own personal practice."—Gary Kraftsow, author of Yoga for Wellness and Yoga for Transformation
 
"As Pamela Seelig shares in her beautiful book Threads of Yoga, it is easy to be calm when the water is still, but how about when the wind blows? Pamela guides a lyrical journey that feels like flowing down a river under the stars. Underpinning her wise sharing of central yoga teachings, poses, meditations, and the chakras are insightful explanations of the meaning of the yoga traditions and the meaning of life. A must companion to your yoga and your soul."—Cyndi Dale, author of Energy Healing for Trauma, Stress, and Chronic Illness and The Subtle Body

"This book of meditations and reflections on yogic wisdom is an excellent starting point for anyone new to the spiritual side of yoga—and for teachers wanting to share thought-provoking insights."—Yoga Journal
Shambhala, 9781611808797, 240pp.
Publication Date: September 28, 2021
About the Author
PAMELA SEELIG is a yoga teacher based in New Jersey. She began her yoga and meditation journey in 1991 when an illness interrupted her Wall Street career. Along with helping recovery, the impact of her meditation led to a lifelong pursuit of perceiving and sharing yogic wisdom through practice, teaching, and writing.