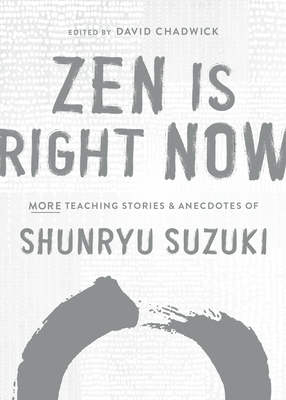 Zen Is Right Now
More Teaching Stories and Anecdotes of Shunryu Suzuki, author of Zen Mind, Beginners Mind
Hardcover

* Individual store prices may vary.
Description
Spirituality & Practice "Best Books of 2021" Award Winner

In this new collection of quotes from Shunryu Suzuki Roshi and stories from his students, the presence, wisdom, and humor of a great Zen teacher come alive once more.

The teachings of Shunryu Suzuki have served for innumerable people as the gateway to Zen practice and meditation. In Zen Is Right Now, devoted student and biographer David Chadwick sheds new light on Suzuki's presence and teachings through selected quotes from his lectures and a variety of stories told by his students.

Complementary to another collection about Suzuki, Zen Is Right Here, this book offers a joyful bounty of anecdotes and insights, revealing a playful and deeply wise teacher who delighted in paradox and laughed often. Each of the stories and quotes presented here is an example of the versatile and timeless quality evident in Suzuki's teaching, showing that the potential for attaining enlightenment exists right now, in this very moment.
Praise For Zen Is Right Now: More Teaching Stories and Anecdotes of Shunryu Suzuki, author of Zen Mind, Beginners Mind…
"Suzuki challenged [students] to open their minds and face the reality of death—while also making space for laughter and playfulness. He urged students to see the meaning present in everyday life, but to avoid getting attached to one's thoughts, preferences, and even one's practice. For Suzuki, the point of Buddhism was not so much about enlightenment, but about sharing in 'the joy of practice' and in learning how to 'die well.' Buddhist readers both new to or already familiar with Suzuki's teaching will find disarming simplicity and great wisdom here."—Publishers Weekly

"A fresh and exciting collection of vignettes."—Buddhistdoor Global

"Extraordinary, thought-provoking, and highly recommended . . . Essential reading for all students and practitioners of Zen Buddhism."—Midwest Book Review
Shambhala, 9781611809145, 160pp.
Publication Date: July 13, 2021
About the Author
SHUNRYU SUZUKI (1904-1971) was one of the most influential spiritual teachers of the twentieth century and is truly a founding father of Zen in America. A Japanese priest of the Soto lineage, he taught in the United States from 1959 until his death. He was the founder of the San Francisco Zen Center and the Tassajara Zen Mountain Center. He is the author of Zen Mind, Beginner's Mind, Branching Streams Flow in the Darkness: Zen Talks on the Sandokai, and Zen Is Right Here: Teaching Stories and Anecdotes of Shunryu Suzuki, and he is the subject of the biography Crooked Cucumber by David Chadwick.

DAVID CHADWICK began his Zen study under Shunryu Suzuki Roshi in 1966. Ordained as a Zen priest in 1971, he later wrote Suzuki's biography, Crooked Cucumber, as well as Thank You and OK!: An American Zen Failure in Japan. With a great deal of help, Chadwick is poo-bah of Cuke Archives, preserving the legacy of Shunryu Suzuki and those whose paths crossed his--and anything else that comes to mind. See cuke.com and shunryusuzuki.com for more vital info.