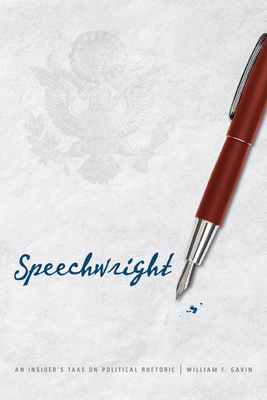 Speechwright (Hardcover)
An Insider's Take on Political Rhetoric
Michigan State University Press, 9781611860177, 172pp.
Publication Date: November 1, 2011
* Individual store prices may vary.
Description
For almost thirty years, William F. Gavin wrote speeches at the highest levels of government. Speechwright is his insider's view of politics, a shrewd critique of presidential and congressional rhetoric, and a personal look at the political leaders for whom he wrote speeches. While serving President Richard Nixon and candidate Ronald Reagan, Gavin advocated for "working rhetoric"—well-crafted, clear, hard-hitting arguments that did not off er visions of the unattainable, but instead limited political discourse to achievable ends reached through practical means. Filled with hard-earned wisdom about politics and its discontents, Speechwright describes Gavin's successes, his failures, and his call for political rhetoric built on strong argument rather than the mere search for eloquence.
About the Author
William F. Gavin is a former speechwriter for President Richard Nixon and candidate Ronald Reagan and the author of the novels One Hell of a Candidate and The Ernesto "Che" GuevaraSchool for Wayward Girls.
Praise For Speechwright: An Insider's Take on Political Rhetoric…
Gavin has written a must-read book for anyone interested in the American presidency. Both scholars and practitioners of political speechwriting will want to have this book on their shelves.
—Martin J. Medhurst, Distinguished Professor of Rhetoric and Communication, Baylor University
Imagine a high school teacher who sends a letter to Richard Nixon and ends up in the White House, writing heartfelt speeches for Ronald Reagan and almost every other Republican of note for thirty years. It actually happened, and Bill Gavin is that guy!
—Richard Reeves, author of President Reagan: The Triumph of Imagination, President Nixon: Alone in the White House, and President Kennedy: Profile of Power
Bill Gavin is hardly alone in his recollections, but only he could bring them to life with such candor and "heart." No account of these moments or the people who lived them would be complete without such insights, which for too long have gone unrecorded.  However unlikely Gavin considers the string of events that led to his career as a "speechwright,"this book reveals his gifts and inspires others to respond to such a calling.
—Linda B. Hobgood, Speech Center Director, Department of Rhetoric and Communication Studies, University of Richmond
or
Not Currently Available for Direct Purchase