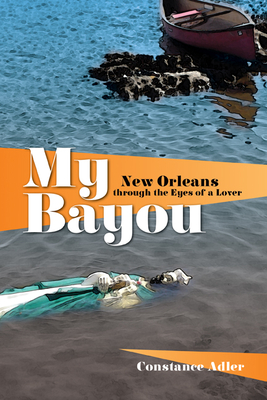 My Bayou (Paperback)
New Orleans through the Eyes of a Lover
Michigan State University Press, 9781611860320, 260pp.
Publication Date: February 1, 2012
* Individual store prices may vary.
Description
A vividly described and intensely personal memoir, My Bayou charts a personal and spiritual transformation along the fabled banks of Bayou Saint John in New Orleans. When Constance Adler moves to New Orleans, she begins what becomes a lasting love affair with the city, and especially the bayou—a living entity and the beating heart of local culture. Rites of passage, celebrations, mysterious accidents, and magic all take place on its banks, leading Adler to a vibrant awareness of the power of being part of a community. That faith is tested in the wake of Hurricane Katrina, and is ultimately proven right, as Bayou Saint John begins to rebuild.
About the Author
Constance Adler teaches a creative writing workshop and writes a blog, Emily Every Day. Her writing has appeared in Spy Magazine, Utne Reader, Self, Cable Guide, Baltimore Magazine, Philadelphia Magazine, Oxford American, and Gambit, New Orleans's alternative newsweekly.
Praise For My Bayou: New Orleans through the Eyes of a Lover…
Funny, thoughtful, and moving—and sometimes all three at once—as Adler recounts her discovery of the city and the life she forged there, before Katrina and after. Above all, this is the work of a writer: virtually every sentence has an interesting idea or turn of phrase, and emanates from a voice you want to keep listening to.
—Ben Yagoda, author of Memoir: A History and About Town: The New Yorker and the World It Made
A personal history that finds its form in a meandering bayou, this moving meditation on the collapse of a marriage details how floodwaters breached more than just levees in the aftermath of Hurricane Katrina.
—John Biguenet, author of Oyster and The Torturer's Apprentice
Constance Adler plucks prophetic beauty from the rain clouds of the Bayou Saint John, rituals of vodou, and the deep layers of love found in the people around New Orleans. She is a masterful writer.
—Jacqueline Sheehan, New York Times bestselling author of Lost & Found and Now & Then
New Orleans is the perfect place to fall in or out of love and that is a major part of the story here. The author cannot spare anyone close to her—including herself—the risk of pain, but for those who can travel along with her, she also reveals the quirky, funky joys below, beside, and within that slow moving bayou of life that tears New Orleans from river to lake, wild and free, body and soul.
—Rodger Kamenetz, author of The Jew in the Lotus and The History of Last Night's Dream
 Constance Adler's lively bayou is blocks from my own home, but before this jewel of a memoir, I knew these waters glancingly, not intimately. How lucky New Orleans is that she arrived from New Jersey, fell in love with more than a man, and stayed. Read this sensuous book and risk the urge to pack your bags and be her neighbor.
—Pia Z. Ehrhardt, author of Famous Fathers & Other Stories