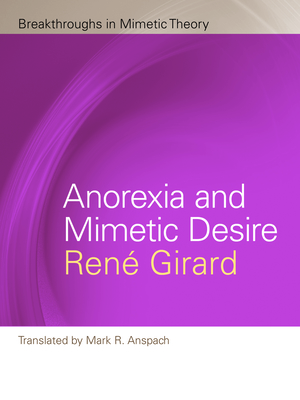 Anorexia and Mimetic Desire (Breakthroughs in Mimetic Theory)
Paperback

* Individual store prices may vary.
Description
René Girard shows that all desires are contagious—and the desire to be thin is no exception. In this compelling new book, Girard ties the anorexia epidemic to what he calls mimetic desire: a desire imitated from a model. Girard has long argued that, far from being spontaneous, our most intimate desires are copied from what we see around us. In a culture obsessed with thinness, the rise of eating disorders should be no surprise. When everyone is trying to slim down, Girard asks, how can we convince anorexic patients to have a healthy outlook on eating? Mixing theoretical sophistication with irreverent common sense, Girard denounces a "culture of anorexia" and takes apart the competitive impulse that fuels the game of conspicuous non-consumption. He shows that showing off a slim physique is not enough—the real aim is to be skinnier than one's rivals. In the race to lose the most weight, the winners are bound to be thinner and thinner. Taken to extremes, this tendency to escalation can only lead to tragic results. Featuring a foreword by neuropsychiatrist Jean-Michel Oughourlian and an introductory essay by anthropologist Mark R. Anspach, the volume concludes with an illuminating conversation between René Girard, Mark R. Anspach, and Laurence Tacou.
Michigan State University Press, 9781611860870, 112pp.
Publication Date: October 1, 2013
About the Author
René Girard is a member of the French Academy and Emeritus Professor at Stanford University. His books have been translated and acclaimed worldwide. He received the Modern Language Association's Award for Lifetime Scholarly Achievement in 2008.
or
Not Currently Available for Direct Purchase