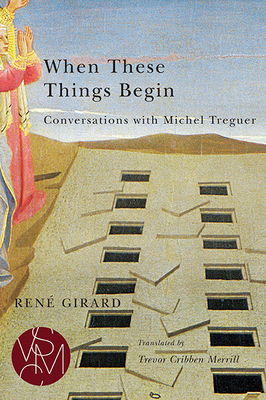 When These Things Begin
Conversations with Michel Treguer (Studies in Violence, Mimesis & Culture)
Paperback

* Individual store prices may vary.
Description
In this lively series of conversations with writer Michel Treguer, René Girard revisits the major concepts of mimetic theory and explores science, democracy, and the nature of God and freedom. Girard affirms that "our unprecedented present is incomprehensible without Christianity." Globalization has unified the world, yet civil war and terrorism persist despite free trade and economic growth. Because of mimetic desire and the rivalry it generates, asserts Girard, "whether we're talking about marriage, friendship, professional relationships, issues with neighbors or matters of national unity, human relations are always under threat." Literary masters including Marivaux, Dostoevsky, and Joyce understood this, as did archaic religion, which warded off violence with blood sacrifice. Christianity brought a new understanding of sacrifice, giving rise not only to modern rationality and science but also to a fragile system that is, in Girard's words, "always teetering between a new golden age and a destructive apocalypse." Treguer, a skeptic of mimetic theory, wonders: "Is what he's telling me true...or is it just a nice story, a way of looking at things?" In response, Girard makes a compelling case for his theory.
Praise For When These Things Begin: Conversations with Michel Treguer (Studies in Violence, Mimesis & Culture)…
"Insights" like René Girard's—the kind which, in the course of a few decades, tear apart and restructure the firmament of ideas—are few and far between. The author of Violence and the Sacred—who draws on novelists and playwrights rather than philosophers—holds that the same mechanism, the same values, and the same snares are at work in the birth of religions, the triumph of Christianity, the collapse of Communism, and the reign of "human rights," but also in a banal marital squabble: mimetic desire. These conversations with Michel Treguer—who admires and is familiar with his interlocutor's work, but also is critical of it—show the amazing degree to which today's earth-shaking events bear out Girard's theses. Have "these things" really begun? The simplicity of [Girard's] avowals, and the familiarity of his conversations with Michel Treguer, make reading [this book] an experience as pleasant as it is moving. . . . The reader will be delighted to discover, in the last pages, the very simple narrative of his conversion.
—P. Gardeil, Nouvelle revue théologique

In a century that no longer has many means of believing and, worse still, of making others believe, it seems to me important to read this essay. Here we have a re-reading of fundamental texts. Truly mind-blowing.
—Marc Chabot, Horizons philosophiques
Michigan State University Press, 9781611861105, 152pp.
Publication Date: January 1, 2014
About the Author
René Girard is a member of the French Academy and Emeritus Professor at Stanford University. His books have been translated and acclaimed worldwide. He received the Modern Language Association's Award for Lifetime Scholarly Achievement in 2008.
or
Not Currently Available for Direct Purchase