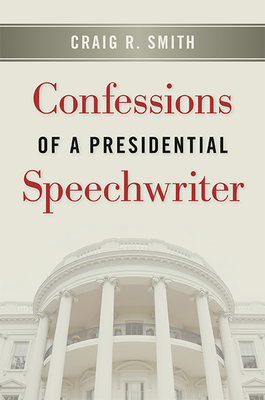 Confessions of a Presidential Speechwriter (Paperback)
Michigan State University Press, 9781611861136, 394pp.
Publication Date: February 1, 2014
* Individual store prices may vary.
Description
An avid high school debater and enthusiastic student body president, Craig Smith seemed destined for a life in public service from an early age. As a sought-after speechwriter, Smith had a front-row seat at some of the most important events of the twentieth century, meeting with Robert Kennedy and Richard Nixon, advising Governor Ronald Reagan, writing for President Ford, serving as a campaign manager for a major U.S. senator's reelection campaign, and writing speeches for a contender for the Republican nomination for president. Life in the volatile world of politics wasn't always easy, however, and as a closeted gay man, Smith struggled to reconcile his private and professional lives. In this revealing memoir, Smith sheds light on what it takes to make it as a speechwriter in a field where the only constant is change. While bouncing in and out of the academic world, Smith transitions from consultantships with George H. W. Bush and the Republican caucus of the U.S. Senate to a position with Chrysler CEO Lee Iacocca. When Smith returns to Washington, D.C., as president and founder of the Freedom of Expression Foundation, he becomes a leading player on First Amendment issues in the nation's capital. Returning at long last to academia, Smith finds happiness coming out of the closet and reaping the benefits of a dedicated and highly successful career.
About the Author
Craig R. Smith is Professor of Communication Studies at California State University, Long Beach, and serves as director of the Center for First Amendment Studies.
Praise For Confessions of a Presidential Speechwriter…
Smith shares with readers an exceptionally candid, instructive, and fascinating memoir about experiences associated with his being a presidential speechwriter. . . . His thoughts are joyful, always insightful, at times quite humbling, and certainly courageous. The narrative he weaves makes for an awesome read. Bravo!
—Michael J. Hyde, University Distinguished Professor of Communication Ethics, Wake Forest University
In addition to augmenting the corpus of works on professional speechwriting, this fast-paced book is simultaneously a work of history, rhetorical criticism, autobiography, and political refl ection. The cast of characters includes Richard Nixon, Ronald Reagan, Gerald Ford, George H. W. Bush, Lee Iacocca, Robert Packwood, even Frank Sinatra. The settings range from corporate boardrooms to the corridors of power to the sinuous world of academic politics. There is much here to interest a broad spectrum of readers.
—Stephen E. Lucas, Evjue-Bascom Professor in the Humanities, University of Wisconsin–Madison
Like the proverbial cat, Craig Smith has had at least nine lives—university professor, administrator, presidential speechwriter, newsroom writer, campaign manager, legislative aide, state board member, corporate speechwriter, and editorial columnist. And, by the way, he did all this while being a closeted gay man in the Republican Party. If that isn't plot enough, then the meetings with Robert Kennedy, Richard Nixon, George H. W. Bush, Lee Iacocca, Walter Cronkite, and a cast of thousands ought to be. Smith provides a fascinating look behind the scenes of Republican Party power and intrigue. Having known Craig R. Smith for over 30 years, I can truthfully say that I learned more from this book than any of his previous 16 books. Smith's autobiography provides a fascinating look at how the personal and professional intersect in strange and powerful ways.
—Martin J. Medhurst, Distinguished Professor of Rhetoric and Communication, Baylor University