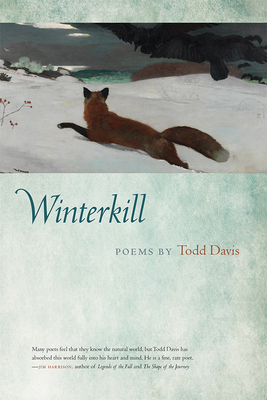 Winterkill
Paperback

* Individual store prices may vary.
Description
In Winterkill, Todd Davis, who, according to Gray's Sporting Journal, "observes nature in the great tradition of Robert Frost, James Dickey, and Jim Harrison," offers an unflinching portrait of the cycles of birth and death in the woods and streams of Pennsylvania, while never leaving behind the tragedies and joys of the human world. Fusing narrative and lyrical impulses, in his fifth book of poetry Davis seeks to address the living world through a lens of transformation. In poems of praise and sorrow that draw upon the classical Chinese rivers-and-mountains tradition, Davis chronicles the creatures of forest and sky, of streams and lakes, moving through cycles of fecundity and lack, paying witness to the fundamental processes of the earth that offer the possibility of regeneration, even resurrection. Meditations on subjects from native brook trout to the ants that scramble up a compost pile; from a young diabetic girl burning trash in a barrel to a neighbor's denial of global warming; from an examination of the bone structure in a rabbit's skull to a depiction of a boy who can name every bird by its far-off song, these are poems that both celebrate and lament the perfectly imperfect world that sustains us.
Praise For Winterkill…
"Reading Todd Davis's gorgeous poems, you can't help but feel that the capacities of human vision, and also our appetite for exactly this way of seeing and naming, have been mysteriously, precisely increased."
—Jane Hirshfield, author of Come, Thief and The Beauty
 

"In his fifth collection, Davis (In the Kingdom of the Ditch) again tackles the nature of nature, how it both affects humans and is in turn affected by them. Through meditations on the flora and fauna of his Pennsylvania home, Davis brings readers into a world rife with danger and darkness as well as quietude and splendor. . . . Given its meditative qualities, the book is a slow burn, and some readers may find that the poems' steady, deliberate pacing makes the collection feel longer than it really is. Those who appreciate a subtle word and an eye for the trees will find much to savor. Davis reverently observes nature's own poetry and how it illuminates the process of change."
— Publishers Weekly

"This collection's negative capability of faith and doubt, spirituality and science, myth and natural history charges nearly every poem in both traditional and viscerally original ways. . . . Like so much in this fine book, the empty impressions speak softly and clearly of what Wallace Stevens called the "nothing that is not there, and the nothing that is." Winter's absence and death remind us to feast on poems, remember, imagine, and survive into spring."—Harvard Review Online
— Henry Hughes
Michigan State University Press, 9781611861969, 114pp.
Publication Date: January 1, 2016
About the Author
Todd Davis is the author of five full-length collections of poetry. He teaches environmental studies, creative writing, and American literature at Pennsylvania State University's Altoona College.
or
Not Currently Available for Direct Purchase