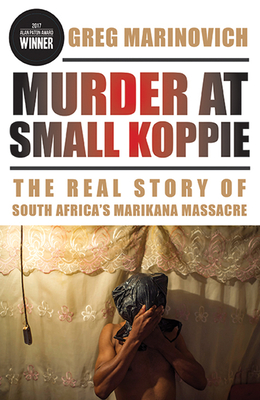 Murder at Small Koppie
The Real Story of South Africa's Marikana Massacre (African History and Culture)
Paperback

* Individual store prices may vary.
Description
An award-winning investigation that has been called the most important piece of journalism in post-apartheid South Africa, Murder at Small Koppie delves into the truth behind the massacre that killed thirty-four platinum miners and wounded seventy-eight more in August of 2012 at the Marikana platinum mine in South Africa's North West province. News footage of the event caused global outrage; however, it captured only a dozen or so of the dead. Here, Pulitzer Prize–winner Greg Marinovich focuses on the violence that took place at Small Koppie, a collection of boulders where a second massacre took place off-camera and in cold blood. Combining his own meticulous research, eyewitness accounts, and the findings of the Marikana Commission of Inquiry, Marinovich has crafted a vivid account of the tragedy and the events leading up to it. By taking readers into the mines, the shacks where the miners live, and the boardroom, Marinovich puts names, faces, and stories to Marikana's victims and perpetrators. He addresses the big questions that any nation must ask when justice and equality are subverted by conflicts around class, race, money, and power, as well as the subsequent denial and finger-pointing that characterized the response of the mine owner, police, and government. This is a story that is both stirring and accurate.
 
Praise For Murder at Small Koppie: The Real Story of South Africa's Marikana Massacre (African History and Culture)…
"The autopsy reports of bullet wound trajectories suggest nothing less than extrajudicial executions, sinister echoes of apartheid-era death squad activities. But no summary of what happened at Marikana can do justice to Marinovich's narrative, nor to the miners, police and security guards who lost their lives while authorities created 'plausible deniability' for themselves."
—Anthony Egan, Daily Maverick
 
Michigan State University Press, 9781611862768, 267pp.
Publication Date: November 1, 2017
About the Author
Greg Marinovich is a Pulitzer Prize–winning photojournalist, author, and filmmaker. He was a Nieman Fellow at Harvard University and teaches Visual Journalism at Boston University and Harvard University.
 
or
Not Currently Available for Direct Purchase