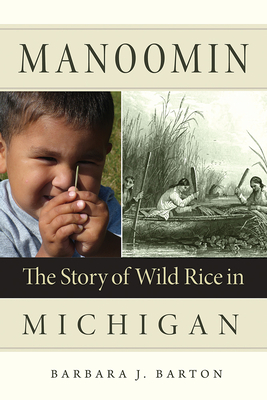 Manoomin
The Story of Wild Rice in Michigan
Paperback

* Individual store prices may vary.
Description
This is the first book of its kind to bring forward the rich tradition of wild rice in Michigan and its importance to the Anishinaabek people who live there. Manoomin: The Story of Wild Rice in Michigan focuses on the history, culture, biology, economics, and spirituality surrounding this sacred plant. The story travels through time from the days before European colonization and winds its way forward in and out of the logging and industrialization eras. It weaves between the worlds of the Anishinaabek and the colonizers, contrasting their different perspectives and divergent relationships with Manoomin. Barton discusses historic wild rice beds that once existed in Michigan, why many disappeared, and the efforts of tribal and nontribal people with a common goal of restoring and protecting Manoomin across the landscape.
Praise For Manoomin: The Story of Wild Rice in Michigan…
"Barton brings us the untold story of one of Michigan's iconic natural resources—its cultural and historical importance, its mistreatment and demise, and the seeds of hope for its future recovery. She writes with deep reverence and careful scholarship, in a warm style that makes me want to paddle the backwaters of Michigan's rivers and lakes, searching for lost stands of this amazing grass."
—SAMUEL THAYER, author of The Forager's Harvest, Nature's Garden, and Incredible Wild Edibles
 
Michigan State University Press, 9781611862805, 214pp.
Publication Date: June 1, 2018
About the Author
BARBARA J. BARTON is an endangered species biologist; member of the State of Michigan's wild rice working group, Michigan Water Environment Association, and western Upper Peninsula's wild rice team; and academic affiliate of the University of Michigan's College of Literature, Science and the Arts Biological Station, where she collaborates on the state's wild rice map. She was awarded the 2009 MSU Extension Diversity Award for her work with the Michigan tribes on Manoomin.