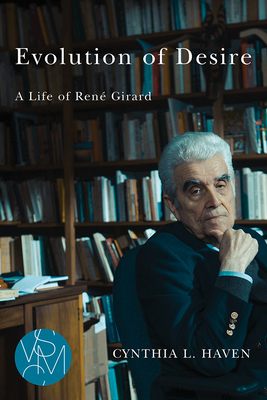 Evolution of Desire
A Life of René Girard (Studies in Violence, Mimesis & Culture)
Paperback

* Individual store prices may vary.
Description
René Girard (1923–2015) was one of the leading thinkers of our era—a provocative sage who bypassed prevailing orthodoxies to offer a bold, sweeping vision of human nature, human history, and human destiny. His oeuvre, offering a "mimetic theory" of cultural origins and human behavior, inspired such writers as Milan Kundera and J. M. Coetzee, and earned him a place among the forty "immortals" of the Académie Française. Too often, however, his work is considered only within various academic specializations. This first-ever biographical study takes a wider view. Cynthia L. Haven traces the evolution of Girard's thought in parallel with his life and times. She recounts his formative years in France and his arrival in a country torn by racial division, and reveals his insights into the collective delusions of our technological world and the changing nature of warfare. Drawing on interviews with Girard and his colleagues, Evolution of Desire: A Life of René Girard provides an essential introduction to one of the twentieth century's most controversial and original minds.
Praise For Evolution of Desire: A Life of René Girard (Studies in Violence, Mimesis & Culture)…
It is my humble opinion that, when the dust finally settles, René Girard will be considered one of the truly great thinkers of the twentieth century. Do I exaggerate? Read Cynthia Haven's beautifully written biography and be your own judge. Here is a book that gives us Girard in all his genius and his generosity. I can't recommend it enough.
—Morgan Meis, contributor at The New Yorker and 2013 Whiting Award winner
 
René Girard's provocative theories on violence, religion, desire, and scapegoating are intensely relevant to contemporary American society. Cynthia Haven offers an account of Girard's life and ideas that is as compelling as a good detective story. It should receive the widest possible readership.
—David Streitfeld, Pulitzer Prize-winning writer for The New York Times
 
Evolution of Desire chronicles the personal history of one of the past century's seminal thinkers, illuminating the intellectual history that followed in his wake. Written with flair and wit, the book is intelligent and lucid, discerning and compelling.
—Daniel Medin, Associate Professor of Comparative Literature and English, American University of Paris, juror for the 2016 Man Booker International Prize
 
Evolution of Desire is essential reading for Girard devotees and a perfect opening party for newcomers. Rich with details and ideas, Haven's book gives everything it promises and something more: a personal account of a close friend. She manages to say so much, while still keeping the narration on a deeply personal level. Highly recommended.
—Maria Stepanova, Russian poet, journalist, and publisher of Colta
 
Michigan State University Press, 9781611862836, 346pp.
Publication Date: April 1, 2018
About the Author
CYNTHIA L. HAVEN writes regularly for The Times Literary Supplement, and has also contributed to The Nation, The Washington Post, The Los Angeles Times, and many others. She is also the author of several books, including volumes on Nobel poets Czesław Miłosz and Joseph Brodsky.