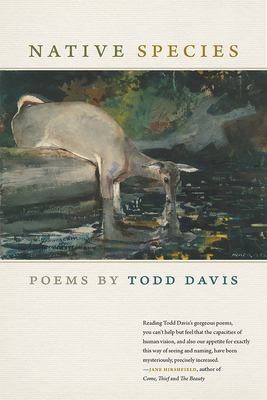 Native Species (Paperback)
Michigan State University Press, 9781611863154, 110pp.
Publication Date: January 1, 2019
* Individual store prices may vary.
Description
In his sixth book of poetry, Todd Davis, who Harvard Review declares is "unflinchingly candid and enduringly compassionate," confesses that "it's hard to hide my love for the pleasures of the earth." In poems both achingly real and stunningly new, he ushers the reader into a consideration of the green world and our uncertain place in it. As he writes in "Dead Letter to James Wright," "You said / you'd wasted your life. / I'm still not sure / what species I am." To that end, Native Species explores what happens to us—to all of us, bear, deer, mink, trout, moose, girl, boy, woman, man—when we die, and what happens to the soul as it faces extinction—if it "migrates into the lives of other creatures, becomes a fox or frog, an ant in a colony serving a queen, a red salamander entering a pond before it freezes." He wonders, too, "How many new beginnings are we granted?" It's a beautiful question, and it freights, simultaneously, possibility and pain. These are the verses of a poet maturing into a new level of thinking, full of tenderness and love for the home that carries us all.
About the Author
Todd Davis is the author of five full-length collections of poetry. He teaches environmental studies, creative writing, and American literature at Pennsylvania State University's Altoona College.
Praise For Native Species…
"Todd Davis's beautiful new book looks with patience, ardor, and often heartbreak at is beloved landscapes—both literal and figurative—and the ways those landscapes change, always change. Whether it's the land being ruined, the aging or dying of family and friends, or his own body turning and turning toward what it does, Davis holds his gaze steadily upon it all, gently upon it all, which makes for some mourning but also plenty of magic. A good deal of sorrow but even more wonder. Even more wonder. Look closely, this book reminds me. Look closer still."
—ROSS GAY, winner of a 2015 National Book Critics Circle Award and the 2016 Kingsley Tufts Poetry Award