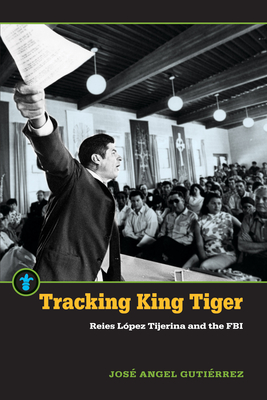 Tracking King Tiger (Paperback)
Reies López Tijerina and the FBI (Latinos in the United States)
Michigan State University Press, 9781611863352, 380pp.
Publication Date: November 1, 2019
* Individual store prices may vary.
Description
Reies López Tijerina, one of the Four Horsemen of the Chicano Movement, led the land grant struggle by Hispanos in the 1960s to recover the lands granted to their ancestors by Spain and Mexico and then guaranteed by the Treaty of Guadalupe Hidalgo. In his struggle, Tijerina became the target of local and state law enforcement officials in New Mexico and the FBI nationwide. José Angel Gutiérrez meticulously examines thousands of pages of FBI documents, interview transcripts, newspaper reports, and other written accounts on Tijerina and the Alianza Federal de Pueblos Libres, the organization of land grant claimants led by Tijerina in New Mexico. The primary source materials that document the U.S. government's attempts to destroy Tijerina, his family, and his followers complement the secondary literature on Tijerina and his efforts as the premier leader of the land grant recovery movement. Threaded through the volume are glimpses into the special personal relationship between Tijerina and the author.
About the Author
José Angel Gutiérrez is a Professor Emeritus of Political Science, formerly at University of Texas at Arlington, where he founded the Center for Mexican American Studies. Gutiérrez is considered one of the Four Horsemen of the Chicano Movement for his work in Texas with the Mexican American Youth Organization and as founder and National Chair of the Raza Unida Party.
Praise For Tracking King Tiger: Reies López Tijerina and the FBI (Latinos in the United States)…
"This is very important and unique work. It takes a second look at Reies López Tijerina, whose autobiography José Angel Gutiérrez translated from Spanish to English and edited with Tijerina's aid. The chile in the sauce is the title, Tracking King Tiger: Reies López Tijerina and the FBI. Utilizing Freedom of Information Act–obtained documents and current secondary source scholarship, Gutiérrez reevaluates the Tijerina and the land recovery movement story. My endorsement of the book is based on Gutiérrez's groundbreaking methodology, something to which new scholars should pay close attention. We should not always blame the victim when the government is directly involved."
—Rodolfo F. Acuña, Professor Emeritus and Founder of Chicana and Chicano Studies, California State University, Northridge
 
"Tracking King Tiger is a binational tour de force of Reies López Tijerina's land grant movement under extensive FBI surveillance. The documentation on Big Brother's looking glass is superb."
—Dennis Bixler-Márquez, Director, Chicano Studies, University of Texas at El Paso
 
"In this redemptory tribute to a polemical and gallant prophet of Mexicano-Indohispano liberation from Anglo society, Gutiérrez reminds a new generation of Chicano and Latino students and activists of their history with the American state. In rigorously documenting and analyzing the hostilities aimed at Tijerina, this book reignites the Mexican American crusade for recognition of rights to land and a decent quality of life while setting the tone for a new institutionalization of Chicano studies."
—Xavier Medina Vidal, Diane D. Blair Professor of Latino Studies and Assistant Professor of Political Science, University of Arkansas