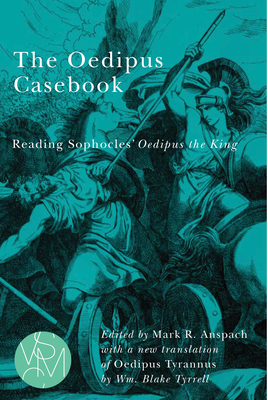 The Oedipus Casebook
Reading Sophocles' Oedipus the King (Studies in Violence, Mimesis & Culture)
Paperback

* Individual store prices may vary.
Description
Who killed Laius? Most readers assume Oedipus did. At the play's end, he stands convicted of murdering his father, marrying his mother, and triggering a deadly plague. With selections from a stellar assortment of critics including Walter Burkert, Terry Eagleton, Michel Foucault, René Girard, and Jean-Pierre Vernant, this book reopens the Oedipus case and lets readers judge for themselves. The Greek word for tragedy means "goat song." Is Oedipus the goat? Helene Peet Foley calls him "the kind of leader a democracy would both love and desire to ostracize." The Oedipus Casebook readings weigh the evidence against Oedipus, place the play in the context of Greek scapegoat rites, and explore the origins of tragedy in the festival of Dionysus. This unique critical edition includes a new translation of the play by distinguished classics scholar Wm. Blake Tyrrell and the authoritative Greek text established by H. Lloyd-Jones and N. G. Wilson.
Praise For The Oedipus Casebook: Reading Sophocles' Oedipus the King (Studies in Violence, Mimesis & Culture)…
The strength of the book lies in the choice of invigorating essays. . . . Mark Anspach has done brilliantly to combine a wide range of scholarly interests, from Burkert and Delcourt's anthropological history to Terry Eagleton's literary criticism, while maintaining a clear, common thread in the strong emphasis on the context of ritual, the scapegoat (pharmakos), and the superficiality of Oedipus' guilt for the crimes with which he is associated. Particularly exciting is the way that the book plays with ideas of time, place and responsibility. . . . Anspach's playful selection rewards prolonged study.—Bryn Mawr Classical Review
Michigan State University Press, 9781611863390, 360pp.
Publication Date: February 1, 2020
About the Author
Mark R. Anspach is the author of Vengeance in Reverse: The Tangled Loops of Violence, Myth, and Madness and the editor of Oedipus Unbound: Selected Writings on Rivalry and Desire, by René Girard.

Wm. Blake Tyrrell is Distinguished Professor of Classics at Michigan State University. He is the author of works including The Sacrifice of Socrates: Athens, Plato, Girard and coauthor of Athenian Myths and Institutions: Words in Action.
or
Not Currently Available for Direct Purchase