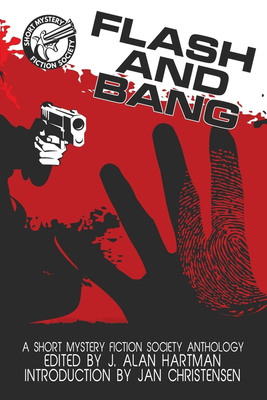 Flash and Bang
A Short Mystery Fiction Society Anthology
Paperback

* Individual store prices may vary.
Other Editions of This Title:
Paperback, Large Print (11/27/2015)
Description
Sometimes, crime occurs with the sound of a drip of poison, or the whispering whistle of a knife moving through the air. And, sometimes, it happens with a "flash and bang." The Short Mystery Fiction Society was formed in 1996 to promote the reading, writing and publication of short-form mystery and crime. This includes the yearly presentation of the Derringer Awards, which celebrate excellence in the writing of stories of up to 20,000 words in length. With over 1,600 members worldwide, SMFS represents a unique pool of authors. Now, the Short Mystery Fiction Society is pleased to present all-new stories for its first-ever anthology of stories in the short form-Flash and Bang. From Vikings to ancient Chinese judges, diners to pawn shops, and a variety of gumshoes and amateur sleuths, Flash and Bang not only represents a wide variety of tales, but also serves as a showcase for a sampling of the incredible talent in the SMFS ranks. Within these pages are contributions from Herschel Cozine, Bobbi A. Chukran, Su Kopil, P.A. De Voe, Laurie Stevens, Tim Wohlforth, Suzanne Berube Rorhus, Sandra Murphy, Julie Tollefson, O'Neil De Noux, John M. Floyd, JoAnne Lucas, Andrew MacRae, Judy Penz Sheluk, Albert Tucher, Earl Staggs, Barb Goffman, BV Lawson and Walter Soethoudt.
Untreed Reads Publishing, 9781611878295, 174pp.
Publication Date: September 29, 2015