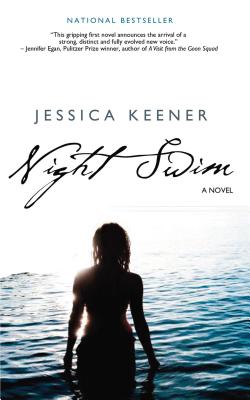 Night Swim
Paperback

* Individual store prices may vary.
Other Editions of This Title:
Digital Audiobook (4/26/2012)
Paperback (1/1/2012)
Description
NATIONAL BESTSELLER
Sixteen-year-old Sarah Kunitz lives in a posh, suburban world of 1970 Boston. From the outside, her parents' lifestyle appears enviable - a world defined by cocktail parties, expensive cars, and live-in maids to care for their children - but inside their five-bedroom house, all is not well for the Kunitz family. Coming home from school, Sarah finds her well-dressed, pill-popping mother lying disheveled on their living room couch. At night, to escape their parents' arguments, Sarah and her oldest brother, Peter, find solace in music, while her two younger brothers retreat to their rooms and imaginary lives. Any vestige of decorum and stability drains away when a family tragedy occurs one terrible winter day. Soon after, their father, a self-absorbed, bombastic professor begins an affair with a younger colleague. Sarah, aggrieved, dives into two summer romances that lead to unforeseen consequences.
In a story that will make you laugh and cry, NIGHT SWIM shows how a family, bound by heartache, learns to love again.
Praise For Night Swim…
"Jessica Keener steps boldly into the terrain of Eugene O'Neill, conjuring up the pathologies and quirks of a besieged Boston family in stark, quivering detail that never entirely distracts us from the looming sense of crisis. This gripping first novel announces the arrival of a strong, distinct and fully evolved new voice."

--Jennifer Egan, Pulitzer Prize winner, A Visit from the Goon Squad


"An amazing new literary voice, Jessica Keener explores the fine-laced network of tangled familiar relations in language both bold and intricate. Night Swim is the deeply moving and devastatingly beautiful work of a fearless writer."

--Sara Gruen, New York Times bestselling author of Water for Elephants


"Jessica Keener has an ear for the nuances of family life and manages, in this book, a small miracle--describing, convincingly, a family suffering the rigidity and opaqueness of a small-scale tyrant, yet honoring his authority and treating his painful struggles with kindness. Keener's heroine, a 16-year old girl impatient to achieve womanliness, is a marvel of curiosity, impulsiveness, and generosity. What a lovely book!"

--C. Michael Curtis, Fiction Editor, The Atlantic.


"I loved this novel. It was just breathtaking and I was really left in awe. There was not a wasted word, or scene or emotion that did not resonate or ring true. The pages ached."

--Caroline Leavitt, New York Times bestselling author of Pictures of You.


"Keener understands deeply that scene writing creates powerful moments for her characters. We learn of Sarah's irritation, fear, reticence, and desire not through discussion, but through her actions and interactions with others. And Keener's writing is lovely; she manages to build sentences that are both precise and ornate. While Keener's Night Swim tells of a girl who has lost her bearings, her hold on her novel is both assured and poised."

Jewish Book Council (Jan. 2013)


"Keener's prose is spectacular, almost poetic. I found myself rereading many of the passages just to experience the beauty of her written word. She gives the reader the gift of a wonderful, honest, coming-of-age story. At just under 300 pages it is not a long read, but one that will resonate. "

Jennsbookshelves.com


"There are certain books that have an intangible quality that transcends the nuances and the mechanics of good writing and literature. Such books somehow have, through their language and the emotions they evoke on the page, the ability to transport the reader right back to a pivotal and critical time in one's life. Night Swim is that kind of book for me." --The Betty and Book Chronicles


"Reading this was pure pleasure. Just gorgeous. Jessica Keener's Night Swim is a poignant and sensual examination of a life and a nation on the cusp of change. Sixteen year-old Sarah brings us a moody and burgeoning wisdom as she pulls us toward secrets we recognize--the desire to hurry past pain and loss toward adulthood, the pull to belong and yet not be absorbed completely into the will of others. In a delicate balance of rebellion and compassion, Sarah teaches us to listen and hold tight to our dreams."

--Susan Henderson, author of Up from the Blue, a Shelf Awareness Top 10 Books of 2010.


"This book surprised the heck out of me. I don't know what I loved more – Jessica Keener's descriptions of the world contained within the book, or her ability to really capture the voice of each and every individual character. " The Lost Entwife.


"Her beautiful prose is exquisite and mesmerizing, absorbing you into the story immediately and keeping you hooked " The House of Seven Tails


"This is an author I will be following." 5 stars, Books Like Breathing

Story Plant, 9781611881059, 299pp.
Publication Date: September 10, 2013
or
Not Currently Available for Direct Purchase