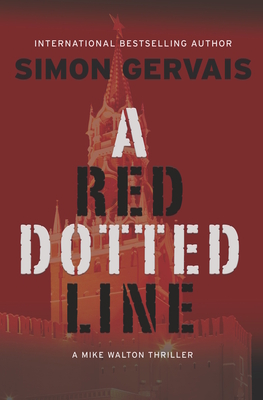 A Red Dotted Line
A Mike Walton Thriller
Paperback

* Individual store prices may vary.
Other Editions of This Title:
Hardcover (11/8/2016)
Description
Terrorism became personal for Mike Walton on his last mission a mission that resulted in triumph...and devastating tragedy. Now the stakes have been raised again. Mike and his wife Lisa both covert assets of the International Market Stabilization Institute, a privately funded organization operating outside official channels to protect North America's financial interests are sent to Russia after an attempt on their superior officer's life. It is a mission fraught with peril and one that becomes exponentially more dangerous when their covers are blown within hours of setting foot in Moscow. Now, they are being hunted down by the Sheik, the terrorist mastermind behind the kidnapping of Mike's father, Ray Powell, and to the treachery that turned Mike and Lisa's lives upside down. To make matters worse, there are clues that Biopreparat the former Soviet Union biological warfare agency has been resurrected and is about to launch a strike against the United States. This forces Mike and Lisa to make the most difficult choice of all. With Ray Powell's life hanging in the balance, and the slightest mistake potentially igniting the next World War, nothing is what it seems. And the line between friend and foe is blurring. A stunning experience by one of the hottest voices in thriller fiction, A Red Dotted Line takes readers on an unforgettable ride. PRAISE FOR SIMON GERVAIS' INTERNATIONAL BESTSELLER THE THIN BLACK LINE: "Realistic, vivid, dramatic, this is a story told by someone who knows what he's talking about. I offer a bow to this exciting debut and to the newest member of the thriller-writing community. Make a note: in the years ahead Simon Gervais is a name you'll be seeing on many more book covers. Steve Berry, New York Times bestselling author When Simon Gervais writes about the world of high-stakes global security, he knows what he's talking about. His world-class security expertise shines through in THE THIN BLACK LINE, a high-speed, break-neck, turbo-charged thriller that takes readers behind the scenes of the war on terrorism." David Morell, New York Times bestselling author "THE THIN BLACK LINE is a refreshingly smart and blisteringly original tale that's equal parts financial thriller and cat-and-mouse game with the survival of the United States economy hanging in the balance. Simon Gervais puts his own law enforcement background to solid use in hitting a home run his first time at the plate. A major debut that places him on the level of Nelson DeMille and Brad Thor." Jon Land, USA Today bestselling author THE THIN BLACK LINE takes a fascinating look into Canada's covert operations, complemented by loveable and heroic characters you will find yourself rooting for. For a thrilling spring read, check out The Thin Black Line Ottawa Life.
Story Plant, 9781611882360, 320pp.
Publication Date: November 1, 2017
About the Author
Simon Gervais is a former federal agent who was tasked with guarding foreign heads of state visiting Canada. Among many others, he served on the protection details of Queen Elizabeth II, US President Barack Obama, and Chinese President Hu Jianto. He has also protected the families of three different Canadian prime ministers. Prior to this, Gervais spent five years in an anti-terrorism unit and was deployed in many European and Middle Eastern countries. He now writes full-time and is a member of the International Thriller Writers organization. He lives in Ottawa with his wife and two children. He is the author of one previous novel, the international bestseller The Thin Black Line, and the novella A Long Gray Line. He is currently at work on his third Mike Walton thriller, which The Story Plant will publish in spring 2018.
or
Not Currently Available for Direct Purchase