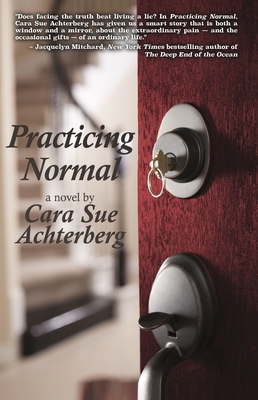 Practicing Normal (Paperback)
Story Plant, 9781611882445, 336pp.
Publication Date: June 6, 2017
Description
"A deep dive into the dysfunctional dynamics of a 'picture perfect family.' A compelling story about the beautiful humanity in the most ordinary of lives." - New York Times bestselling author Kate Moretti. Meet the Turners - a socially awkward genius child, an adolescent cat burglar, a philandering husband, and a doormat wife in desperate need of a backbone. The Turners are doing their best to craft a happy life and face down a history they have no control over in a neighborhood where only the houses are similar. And when relationships sprout from seemingly nowhere and secrets begin to unravel, practicing normal becomes harder than it's ever been.Combining her trademark combination of wit, insight, and tremendous empathy for her characters, Cara Sue Achterberg has written a novel that is at once familiar and startlingly fresh. PRAISE FOR CARA SUE ACHTERBERG'S NATIONAL BESTSELLER I'M NOT HER: Girls' Weekend.indd "Well written, sometimes light, sometimes frightening, but always intriguing, this bird's eye view of two lives intertwined among millions is certainly food for thought, especially when one walks a mile in another's shoes." - Tome Tender "I loved this novel . . . this book had me laughing at some points, and it had me wiping away tears at others." - Comfy Reading "An awesome read The theme of living the life of another no matter the situation and not judging without truly knowing is a lesson we should all take to heart." - Literarily Illumined AND FOR HER NATIONAL BESTSELLER GIRLS' WEEKEND: "Had I known I'd still be sitting in my favorite chair at 2am, racing to the finish, I probably would have put on my pajamas before I started. (Sometime before lunch...) Yeppers, it was that good. It was compelling, touching, and a bit soul-searching. Oh, and it was fun, too." -Momma on the Rocks "GIRLS' WEEKEND is beautifully written. It feels as though you are right there with Dani, Charlotte, and Meg. It's a wonderful read and I highly recommend it to any woman who has ever been struck with a case of the 'what ifs.'" - Life, Motherhood, and the Pursuit of Happiness "Surprised me in so many good ways." - Lost in a Bookstore.
About the Author
Cara Sue Achterberg is a writer and blogger who lives in New Freedom, PA with her family and an embarrassing number of animals. Her first two novels, I'M NOT HER and GIRLS' WEEKEND were national bestsellers, published to great acclaim. Cara's nonfiction book, Live Intentionally, is a guide to the organic life filled with ideas, recipes, and inspiration for living a more intentional life. Cara is a prolific blogger, occasional cowgirl, and busy mom whose essays and articles have been published in numerous anthologies, magazines, and websites.
Advertisement