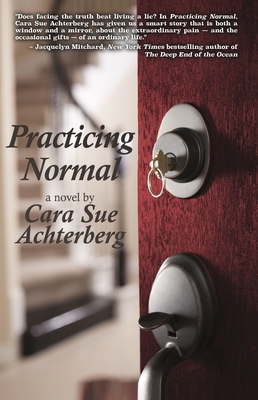 Practicing Normal
Paperback

* Individual store prices may vary.
Other Editions of This Title:
Digital Audiobook (6/5/2017)
Mass Market Paperbound (4/25/2023)
Description
The houses in Pine Estates are beautiful McMansions filled with high-achieving parents, children on the fast track to top colleges, all of the comforts of modern living, and the best security systems money can buy. Welcome to normal upper-middle-class suburbia. The Turners know in their hearts that they're anything but normal. Jenna is a high-schooler dressed in black who is fascinated with breaking into her neighbors' homes, security systems be damned. Everett genuinely believes he loves his wife . . . he just loves having a continuing stream of mistresses more. JT is a genius kid with Asperger's who moves from one obsession to the next. And Kate tries to manage her family, manage her mother (who lives down the street), and avoid wondering why her life is passing her by. And now everything is changing for them. Jenna suddenly finds herself in a boy-next-door romance she never could have predicted. Everett's secrets are beginning to unravel on him. JT is getting his first taste of success at navigating the world. And Kate is facing truths about her husband, her mother, and her father that she might have preferred not to face. Life on Pine Road has never been more challenging for the Turners. That's what happens when you're practicing normal. Combining her trademark combination of wit, insight, and tremendous empathy for her characters, Cara Sue Achterberg has written a novel that is at once familiar and startlingly fresh. PRAISE FOR CARA SUE ACHTERBERG'S NATIONAL BESTSELLER I'M NOT HER: Girls' Weekend.indd "Well written, sometimes light, sometimes frightening, but always intriguing, this bird's eye view of two lives intertwined among millions is certainly food for thought, especially when one walks a mile in another's shoes." - Tome Tender "I loved this novel . . . this book had me laughing at some points, and it had me wiping away tears at others." - Comfy Reading "An awesome read The theme of living the life of another no matter the situation and not judging without truly knowing is a lesson we should all take to heart." - Literarily Illumined AND FOR HER NATIONAL BESTSELLER GIRLS' WEEKEND: "Had I known I'd still be sitting in my favorite chair at 2am, racing to the finish, I probably would have put on my pajamas before I started. (Sometime before lunch...) Yeppers, it was that good. It was compelling, touching, and a bit soul-searching. Oh, and it was fun, too." -Momma on the Rocks "GIRLS' WEEKEND is beautifully written. It feels as though you are right there with Dani, Charlotte, and Meg. It's a wonderful read and I highly recommend it to any woman who has ever been struck with a case of the 'what ifs.'" - Life, Motherhood, and the Pursuit of Happiness "Surprised me in so many good ways." - Lost in a Bookstore.
Story Plant, 9781611882445, 336pp.
Publication Date: June 6, 2017
About the Author
Cara Sue Achterberg is a writer and blogger who lives in New Freedom, PA with her family and an embarrassing number of animals. Her first two novels, I'M NOT HER and GIRLS' WEEKEND were national bestsellers, published to great acclaim. Cara's nonfiction book, Live Intentionally, is a guide to the organic life filled with ideas, recipes, and inspiration for living a more intentional life. Cara is a prolific blogger, occasional cowgirl, and busy mom whose essays and articles have been published in numerous anthologies, magazines, and websites.
or
Not Currently Available for Direct Purchase