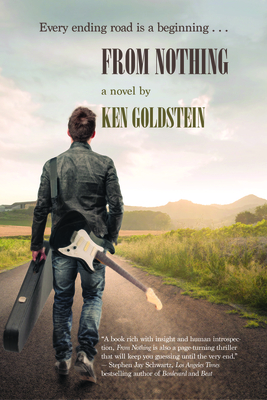 From Nothing
Paperback

* Individual store prices may vary.
Other Editions of This Title:
Hardcover (6/29/2018)
Description
Victor Selo had blown up his life. A wannabe rock star turned tech savant, he'd wagered his Silicon Valley executive position on a corporate inside straight and lost. Having security escort him out of the building was the best thing that happened to him that day. The rest left him in the hospital, broken, broke, and with no prospects.That's when a shadowy stranger with questionable motives came with an offer: a chance to get his life back - and better - if he simply cooperates. It would require becoming invisible for a while, but he would be hiding in the spotlight, playing guitar in a Vegas cover band. Reluctantly, Victor accepts and begins an odyssey he never could have imagined. One that involves a charismatic lead singer who owns the stage but aspires to own an Elvis wedding chapel, a mesmerizing woman who can play anything on her keyboards and can really play with Victor's head, and two specters from his old life offering competing devil's bargains. Suddenly, multiple futures are opening up in front of Victor. All of them offer opportunity - and each comes with potentially catastrophic risk. Populated with a wide array of colorful characters, brimming with reflections on everything from love to God to the price of commitment, and backed by a great soundtrack, From Nothing is an endlessly engaging work of fiction that will resonate like your favorite song.
Story Plant, 9781611882698, 352pp.
Publication Date: October 7, 2019
About the Author
Ken Goldstein advises start-ups and established corporations in technology, entertainment, media, and e-commerce. He currently serves as chairman of the board at ThriftBooks Global, the largest seller of used books in North America. He is also board chair at The Good Men Project, a fast growing digital content community where he is a frequent contributor. He publishes the business blog CorporateIntel and speaks frequently on the topics of innovation and creativity.His first book, This Is Rage: A Novel of Silicon Valley and Other Madness, was published by The Story Plant in 2013 and a theatrical adaptation is in development for the stage. His second book, Endless Encores: Repeating Success Through People, Products, and Profits, was published by The Story Plant in 2015. Ken served as Chief Executive Officer and Chairman of the Board at SHOP.COM, a market leader in developing creative new experiences for online consumer commerce through the convenience of OneCart(R), its patented universal shopping cart. SHOP.COM was acquired by Market America, where Ken became a strategic advisor to the company's founders and senior management. He previously served as executive vice president and managing director of Disney Online, the business unit of the Walt Disney Internet Group that produced the leading entertainment web destination for kids and families. Key achievements at Disney developed by his teams included launch of the first massively multiplayer online game for kids, Toontown, as well as FamilyFun.com, Movies.com, and the broadband service Disney Connection.Prior to Disney, Ken was vice president of entertainment at Broderbund Software and founding general manager of the company's Red Orb Entertainment division. Before the formation of Red Orb, he was responsible for all aspects of development on Broderbund's acclaimed Carmen Sandiego series. He also worked as a designer/producer at Philips Interactive Media and Cinemaware Corporation, and for several years as a screenwriter and television executive.He and his wife Shelley, who teaches English as a Second Language, make their home in Southern California, where he is active in children's welfare issues and local government. He has served on the boards of Hathaway-Sycamores Child and Family Services, the Make-A-Wish Foundation of Greater Los Angeles, and Full Circle Programs. He received his BA in Philosophy and Theater Studies from Yale University.