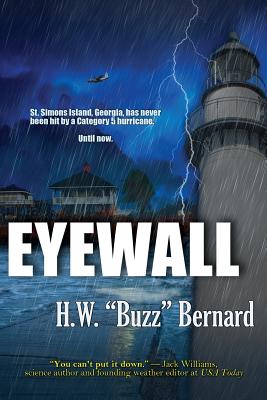 Eyewall (Paperback)
Bell Bridge Books, 9781611940015, 226pp.
Publication Date: April 15, 2011
* Individual store prices may vary.
Description
No one was aware of the storm's sudden force. Not the Hurricane Hunter crew trapped in its center. Not the family marooned on a resort island while searching for their missing teen. A deadly Category Five hurricane has never hit the Georgia coast in modern times. Until now. "You can't put it down." - Jack Williams, science author and founding weather editor at USA Today "A one-sitting, white-knuckle read." -Vicki Hinze, award-winning author of Deadly Ties "An angry hurricane collides with the frailty and heroism of human nature...exciting and emotional." -Michael Buchanan, co-author and screenwriter of The Fat Boy Chronicles and Micah's Child "An edge-of-the-seat, action read of the finest quality." -Elizabeth Sinclair, author of Hawks Mountain St. Simons Island, Georgia, has never been hit by a Category 5 hurricane. Until now. No one predicted the storm's sudden force. A crippled Air Force recon plane, trapped in the eye of a violent hurricane. An outspoken tropical weather forecaster, fired from his network TV job before he can issue a warning: the storm is changing course and intensifying. A desperate family searching for a runaway daughter on Georgia's posh St. Simons Island, cut off from escape as the hurricane roars toward them. A marriage on the rocks; an unrequited sexual attraction; a May-December romance. All will be swept up by the monster storm. Get ready for a white-knuckle adventure. H.W. "Buzz" Bernard is a retired meteorologist who worked for thirteen years at the Atlanta-based Weather Channel. He considers St. Simons Island his second home. Visit him at www.buzzbernard.com.