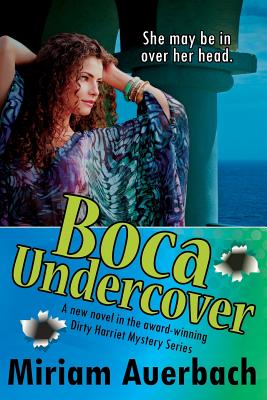 Boca Undercover (Paperback)
Bell Bridge Books, 9781611945584, 160pp.
Publication Date: October 30, 2014
* Individual store prices may vary.
Description
Book 4 of The Dirty Harriet Mystery Series Patients at a posh Boca Raton rehab center are ending up stiffer than a Boca babe's smile. Tough PI Harriet Horowitz, once a bedazzled babe herself, signs in at The Oasis at the request of a frightened friend.
As a pattern emerges in the murders, it's clear the killer is targeting patients with an unusual addiction. How did they end up with the same drug problem at the same time and in the same rehab together? Harriet's sleuthing leads her down a path of secrets and danger, and what she learns could lead her undercover assignment to a dead end.
Miriam Auerbach is the author of a satirical mystery series set in Boca Raton, Florida and featuring Harley-riding, wisecracking female private eye Harriet Horowitz. Her debut novel, Dirty Harriet, won the Romantic Times Reviewers' Choice Award for Best First Series Romance. Miriam can only assume that this is because the heroine kills her husband on page one. In a parallel universe, Miriam is known as Miriam Potocky, professor of social work at Florida International University in Miami. She lives in South Florida with her husband and their multicultural canines, a Welsh Corgi and a Brussels Griffon. Visit Miriam at Miriamauerbach.com.