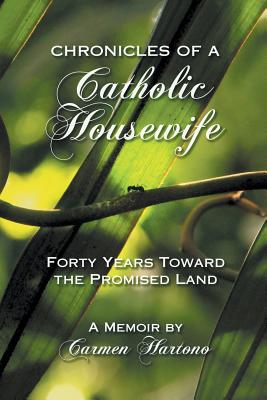 Chronicles of a Catholic Housewife
Forty Years Toward the Promised Land
Paperback

* Individual store prices may vary.
Description
Based in San Francisco, this memoir traces a forty-year marriage through the sexual revolution in the 1970s and the materialism of the 1980s. The author keeps hope alive in spite of personal tragedy occurring in 1993. Carmen Hartono discusses the global, religious, and political thinking of the new millennium. A Roman Catholic from El Salvador, her husband is from Indonesia and holds Muslim values. God's plan further unfolds when their daughter moves to New York and marries a Jewish man. The author comes to realize that there is something or someone greater in life that transcends everyday existence. And though her life's journey takes her to a world beyond her wildest dreams, she must also learn to accept devastating grief, Hartono sees an existence beyond the physical and material world. She repeatedly asks, "Is this a coincidence or another God-incidence?" She concludes that eternal life is love everlasting. The author wrote Chronicles of a Catholic Housewife: Forty Years Toward the Promised Land as an effort to clear misunderstandings about the Catholic Church, Latin America, and the definition of marriage. About the Author Traveling between El Salvador in Central America and San Francisco in California, first-time author Carmen Hartono grew up bilingual and bicultural. "I stayed in the San Francisco Bay Area for my adult life. Now I am living the life of an expatriate. We lived in Singapore for three years, and we are now in Houston, Texas." She says her home country of "El Salvador is considered to be a birthplace of Liberation Theology. Pope Francis is making the news for his 'liberal' point of view. But his thinking is nothing new in the Church of Latin America." Publisher's website: http: //sbprabooks.com/CarmenHartono.
Strategic Book Publishing & Rights Agency, LL, 9781612049717, 252pp.
Publication Date: February 6, 2014