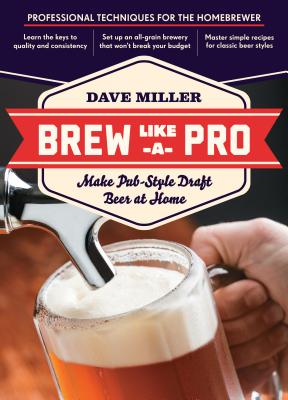 Brew Like a Pro (Paperback)
Make Pub-Style Draft Beer at Home
Storey Publishing, LLC, 9781612120508, 272pp.
Publication Date: December 4, 2012
* Individual store prices may vary.
Description
Make your best beer ever! Legendary brewer Dave Miller brings a lifetime of professional experience into your home. With complete plans for a system that requires just 18 square feet and full of small-batch recipes, Brew Like a Pro reveals the secrets of truly great draft- and pub-style brewing. Learn to make classic all-grain beers that stay fresh in kegs for months, eliminating the need for bottling. This clear, concise guide is sure to take your homebrewing to the next level.
About the Author
Dave Miller is the author of Brew Like a Pro and Dave Miller's Homebrewing Guide, published by Storey in 1995. He was a brewer at Blackstone in Nashville from 1994 to 2008. During his tenure there, Blackstone's beer won 14 Great American Beer Festival and World Beer Cup medals. In his retirement, he has returned to the world of homebrewing. He was awarded a Lifetime Achievement Award from the American Homebrewers Association.