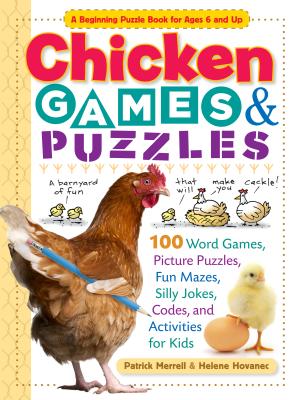 Chicken Games & Puzzles
100 Word Games, Picture Puzzles, Fun Mazes, Silly Jokes, Codes, and Activities for Kids
Paperback

* Individual store prices may vary.
Description
Peck your way through chicken wire mazes and crack some codes while collecting eggs. Kids 6 to 9 will delight in this romp through a barnyard full of brainteasers, word searches, tongue twisters, picture puzzles, and much more. Rudy and Buttercup, two chickens who know their way around the farm, lead you through this engaging and informative book of chicken-themed fun. Cluck and cackle as you solve one fowl riddle after another.
Storey Publishing, LLC, 9781612120874, 144pp.
Publication Date: December 18, 2012
About the Author
Helene Hovenec is the co-author of many Storey puzzle books, including Barnyard Games & Puzzles. She lives in Brooklyn, New York.
Patrick Merrell is a cartoonist, puzzle maker, and author whose work has appeared in hundreds of publications. He is a regular contributor to the New York Times crossword, the American Crossword Puzzle Tournament, and the World Puzzle Championship. His other books include Bird Brainteasers and Coffee Time. He lives in Mt. Vernon, New York.