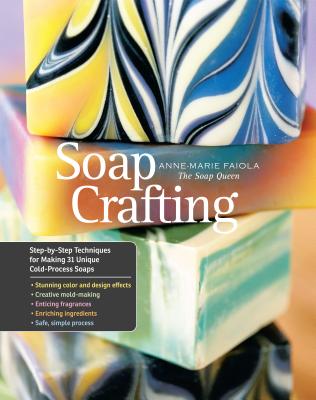 Soap Crafting (Spiral bound)
Step-by-Step Techniques for Making 31 Unique Cold-Process Soaps
Storey Publishing, LLC, 9781612120898, 240pp.
Publication Date: August 13, 2013
* Individual store prices may vary.
Description
Make your own custom-tailored and perfectly formed cold-process soaps! Learn how to use milk jugs and yogurt containers for molds, and how coffee, avocado, and even beer can add unique dimensions to your creations. This encouraging introduction to the art of soapmaking makes it simple to master the techniques you need to safely and easily produce your own enticingly fragrant soaps.
About the Author
Anne-Marie Faiola is the author of Milk Soaps, Pure Soapmaking, and Soap Crafting. She is the owner of Bramble Berry, a company that sells soapmaking supplies at brambleberry.com, and offers soapmaking advice and inspiration through her blog and on her YouTube channel, Soap Queen TV. The recipient of several small business awards, Faiola was named a Best Boss in America by Fortune Small Business, and is a member of the Coalition of Handcrafted Entrepreneurs (COHE). She can be found online at anne-mariefaiola.com.
Praise For Soap Crafting: Step-by-Step Techniques for Making 31 Unique Cold-Process Soaps…
"Twenty years ago, Faiola made her first batch of soap. What began as a hobby turned into a successful business selling both handmade soap and soapmaking supplies. In her first book, Faiola provides a comprehensive guide to producing cold-process soap. After a brief overview of the chemistry of soapmaking, she dives into supplies and safety and provides a basic recipe for crafters who can't wait to get started. Once novices have a few batches of soap under their belts, they can try one of the 30 variations described. Each recipe includes step-by-step directions and photographs. Further information, including videos of the soapmaking process, is available at the author's website.VERDICTFaiola's enthusiasm for her subject is apparent, and with her guidance, beginners will easily take to this craft."
—Library Journal
"If you love soapmaking, you'll love this book. If you don't love soapmaking, get this book and you soon will!"
—Ruth Esteves, Owner and Chief Soapmaker, Sirona Springs Handmade Soap