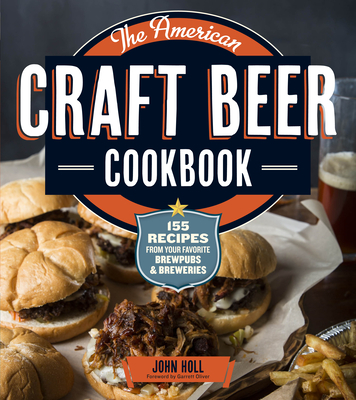 The American Craft Beer Cookbook
155 Recipes from Your Favorite Brewpubs and Breweries
Paperback

* Individual store prices may vary.
Description
Open a cold one and get cooking! Showcasing the diverse ways that beer can be used to enhance a meal, either as an ingredient or by pairing, John Holl's collection of 155 tasty recipes are designed for the beer-loving foodie. From twists on traditional favorites like American Wheat Bear Steamed Clams to unexpected surprises like Chocolate Jefferson Stout Cupcakes, you'll soon be amazing your friends with the culinary versatility of your favorite beverage.
Praise For The American Craft Beer Cookbook: 155 Recipes from Your Favorite Brewpubs and Breweries…
"My wife and I were lucky enough to be guinea pigs when John was testing out a couple of recipes and I can confirm that the book will be worth every penny."
— Sam Calagione, President & Founder, Dogfish Head Craft Brewery
"Not every recipe in the book is made with beer, but they all taste great when paired with beer — and isn't that the important part? The American Craft Beer Cookbook: 155 Recipes from Your Favorite Brewpubs and Breweries offers up instructions on how to cook everything from appetizers to desserts, including some stuff you'd expect — like pub-friendly foods and barbecue — to some you wouldn't — like cupcakes and ice cream floats. But hey, it's all beer-friendly, so it's all good."
— Saveur
"Finally, a cookbook made for beer geeks!"
— CoolMaterial.com
"A bible for guys who like to cook with beer, pair their meals with the perfect pour or do both. Some recipes, like the American wheat beer steamed clams, use the beer for both eating and drinking, and all 155 of them taste great with the right ale or lager."
— Publisher's Weekly
"Finally, a cookbook made for beer geeks!"
— All About Beer magazine
"We've never been so excited to cook in our lives."
— The Boston Globe
"Showcase(s) the transformative cuisine being undertaken by brewpubs across the country."
— Dolce Dolce
"I recommend reading Holl's entire cookbook, marking pages as you go, for there is inspiration for every season of craft beer and cuisine. This is a cookbook you'll use often and enjoy exploring, glass in hand."
"Beer food is more than bar food, and Holl takes you through a range of recipes ranging from Slow-Cooked DoppleBock BBQ Meatballs to Duck Chiles Rellenos. Woven within are profiles of notable brewers and stories about the beers described within. Throughout, the culinary status of beer is rightly elevated."
"The American Craft Beer Cookbook is full of ideas that will appeal to cooks of all levels and change the way you look at beer. Anyone who loves beer, cooking, and entertaining will enjoy this book."
Storey Publishing, LLC, 9781612120904, 352pp.
Publication Date: August 27, 2013
About the Author
John Holl is a New Jersey native and covered the Garden State for the New York Times and the Star-Ledger. He began his career at New Jersey Network Television and has written for the Wall Street Journal, the Washington Post, Wine Enthusiast, and many other publications. He is the author of Dishing Up New Jersey and The American Craft Beer Cookbook, and the co-host of the Steal This Beer podcast. Holl is an avid home cook and lives in Jersey City, where his exit is 14C.