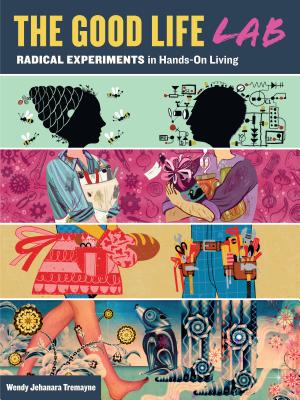 The Good Life Lab
Radical Experiments in Hands-On Living
Paperback

* Individual store prices may vary.
Description
Tired of the high-pressure life they lead in New York City, Wendy Jehanara Tremayne and her husband migrate to Truth or Consequences, New Mexico, where they build, invent, forage, and grow all they need for themselves. Full of quirky stories and imaginative illustrations, this inspiring memoir chronicles the off-the-grid adventures of the Tremaynes. Touchingly personal while also providing practical tutorials on making your own biofuel, building an efficient house, and gardening sustainably, The Good Life Lab will encourage you to chase your dreams of self-sufficiency. 
Praise For The Good Life Lab: Radical Experiments in Hands-On Living…
"This rollicking, inspiring tale of Tremayne's journey from being the creative director of N.Y.C. marketing firm Green Galactic to being a Burning Man volunteer, yoga teacher, Sufi seeker, and hardscrabble DIY urban homesteader in a former trailer park in the eccentric community of Truth or Consequences, N. Mex., is alternately funny, tender, philosophical, and practical. … Illustrated with whimsically florid drawings by a variety of artists and interspersed with essential how-tos for living "life in the waste stream"—from fermenting tempeh and brewing mead, to building a papercrete dome and removing rust from wrenches with electrolysis—the memoir riffs off Scott and Helen Nearing's 1954 Living the Good Life with much more style and humor than the original, bringing the back-to-the-land genre up to date with impressive sophistication and appeal."
"Stop whatever you're doing and get this book. I've just finished reading it and I have to say that Wendy and Mikey could easily be the poster children for modern day hacking. ...There wasn't a single piece of their lives that wasn't somehow improved by their efforts to play an active role in their own living. … Their life is their workbench. … should be handed out in high schools as part of the curriculum."
— Book Page
"Captivating right from the start … Whether for inspiration or as a road map to creating your own off-the-grid homestead, Tremayne's book is a must read for any maker who fantasizes about stepping off the consumer-centered treadmill and into a life that is connected to nature, unhurried and meaningful."
— Los Angeles Review of Books
"Visionary naturalist and conceptual artist Wendy Jehanara Tremayne presents a unique synthesis of memoir, travelogue, guru-level spiritual wisdom and pragmatic instruction on how to get out of the 'waste stream' in which urbanites wallow and re-enter the vital stream of the natural world."
— Book & Game Company, Walla Walla, WA
"Tremayne is part of a grand American tradition of abandoning urban commercialism to grow food and build houses far from the crush of city life. … There are many roads to satisfaction, from homesteading to buying a ticket into space, and the advice underlying [The Good Life Lab] ultimately has less to do with composting and more to do with deciding what you are willing to sacrifice to live as you choose."
— The Guardian
"Part essay, part how-to book, The Good Life Lab is for anyone who wants to live closer to the source of their food, housing, clothing and energy use.  If you want inspiring examples of do-it-yourself creativity then read this book.  From building with recycled materials headed for the land fill, to making biodiesel and more, this one is sure to spark ideas for your own hands-on living.  A refreshing read from a couple who is leading by example."
— Rachael Ray Blog
Named a Best Staycation Summer Read: "If you want to reset your psychological clock and improve your lifestyle while staying in the same place, then The Good Life Lab is the book for you."
— DIY Network blog
"Have you ever felt so fed up with the materialism of the modern world that you wanted to opt out and go back to a simpler way of living? That's exactly what Tremayne and her boyfriend ended up doing, in an effort to get in touch with what's important in life."
— Nautilus Awards
"Shares a wealth of information to inspire people who may want to embark on their own path of discovery. "
— Nautilus Book Awards - Books for a Better World
Storey Publishing, LLC, 9781612121017, 320pp.
Publication Date: June 4, 2013
About the Author
Wendy Tremayne was a creative director in a marketing firm in New York City before moving to Truth or Consequences, New Mexico, where she built an off-the-grid oasis in a barren RV park with her partner, Mikey Sklar. She is the founder of the textile repurposing event Swap-O-Rama-Rama, which has spread all over the world; a conceptual artist; a yogi; a gardener; and a writer. She has written for Craft's webzine and Make magazine and, with Mikey Sklar, keeps the blog Holy Scrap.
Dale Dougherty is the founder, editor, and publisher of Make magazine.
Christopher Bamford is the author of An Endless Trace: The Passionate Pursuit of Wisdom in the West.
Brad Lancaster is the author of Rainwater Harvesting for Drylands and Beyond.
Sandor Ellix Katz is the author of The Art of Fermentation.
Alyce Santoro is a conceptual and sound artist and a member of the multimedia collective known as the Center for the Improbable and (Im)Permacultural Research.
Pir Zia Inayat-Kahn is the spiritual leader of the Sufi Order International.
The Reverend Billy, of the Church of Stop Shopping, is the author of The End of the World.
Doug Rushkoff is a media theorist and the author of many books, including Life, Inc. and Present Shock.
or
Not Currently Available for Direct Purchase