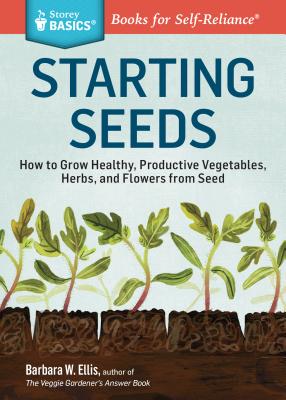 Starting Seeds
How to Grow Healthy, Productive Vegetables, Herbs, and Flowers from Seed. A Storey BASICS® Title
Paperback

* Individual store prices may vary.
Description
Get a jump on the gardening season! In this Storey BASICS® guide, Barbara Ellis provides the basic information that you need to start a variety of vegetables, herbs, and flowers from seed. Ellis shares simple, proven techniques for sowing seeds, managing indoor plants, and creating proper growing conditions so your seedlings can thrive. Packed with expert advice suitable for both beginners and experienced gardeners, Starting Seeds will inspire you to plant a seed and watch it grow. 
Praise For Starting Seeds: How to Grow Healthy, Productive Vegetables, Herbs, and Flowers from Seed. A Storey BASICS® Title…
Starting Seeds walks you through everything you need to start in the endeavor of starting plants from seed in your front room, basement, greenhouse, cold frame, or kitchen window.
Starting Seeds is a basic guide to growing plants from seed, whether they're started indoors or out.
— Portland Book Review
Starting Seeds is a basic guide to growing plants from seed, whether they're started indoors or out.
— Portland Book Review
A great how-to resource for self-reliance.
— Tulsa Book Review
This book, part of the Storey Basics series, contains a treasure trove of information about starting plants from seeds in a book that is small enough to fit in a pocket.
— Charlotte Observer
A fantastic resource for starting plants from seeds.
A step-by-step guide with simple but descriptive drawings, Starting Seeds should help the gardener from the moment the seed envelope is ripped open to setting out the young plants.
Storey Publishing, LLC, 9781612121055, 128pp.
Publication Date: January 15, 2013
About the Author
Barbara W. Ellis is a freelance writer, editor, and lifelong gardener. She is the author of many gardening books, including The Veggie Gardener's Answer Book, Deckscaping, Shady Retreats, and Covering Ground. She holds a B.S. in horticulture from the Ohio State University, Columbus, and a B.A. from Kenyon College. She has worked as managing editor at Rodale Press and as publications director for the American Horticultural Society and is affiliated with the Hardy Plant Society Mid-Atlantic Group, the Garden Writers Association, and the Perennial Plant Association. She lives and gardens in Maryland, where she and her husband live in a renovated "green" home with an assortment of rescued dogs, cats, and parrots. Her garden, which is managed organically and designed to be wildlife-friendly, features a wide range of ornamentals, herbs, and edibles for both sun and shade.