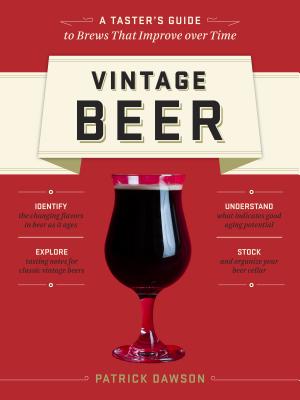 Vintage Beer
A Taster's Guide to Brews That Improve over Time
Paperback

* Individual store prices may vary.
Description
2014 Gold Medal Winner from the North American Guild of Beer Writers for Best Beer Book
 
Like good wine, certain beers can be aged under the right conditions to enhance and change their flavors in interesting and delicious ways. Good candidates for cellaring are either strong, sour, or smoked beers, such as barleywines, rauchbiers, and lambics. Patrick Dawson gives a list of easy-to-follow rules that lay the groundwork for identifying these cellar-worthy beers and then delves into the mysteries behind how and why they age as they do. Beer styles known for aging well are discussed and detailed profiles of commonly available beers that fall into these categories are included. There is also a short travel guide for bars and restaurants that specialize in vintage beer gives readers a way to taste what this new craft beer frontier is all about.
Praise For Vintage Beer: A Taster's Guide to Brews That Improve over Time…
"Vintage Beer teaches you everything you need to know about aged beers." —Cool Material.com
"Vintage Beer teaches you everything you need to know about aged beers." —Cool Material.com
"This is the manual for serious beer lovers who want to take their beer to the next level."—
All About Beer Magazine
"Dawson's guide to vintage brews will have you making room in your crawlspace."—
BeerAdvocate Magazine
"Dawson makes aging beer easy, using a variety of brews like ales, barleywines, and stouts as examples."—
Brew Your Own magazine
Storey Publishing, LLC, 9781612121567, 160pp.
Publication Date: March 11, 2014
About the Author
Patrick Dawson is an award-winning beer writer, an avid homebrewer, a BJCP beer judge, and a general lover of all things beer. He is the author of The Beer Geek Handbook and Vintage Beer, and has written for DRAFT Magazine, Zymurgy, All About Beer Magazine, Craft Beer & Brewing, and multiple other publications.
or
Not Currently Available for Direct Purchase