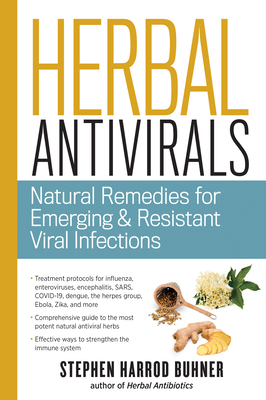 Herbal Antivirals (Paperback)
Natural Remedies for Emerging & Resistant Viral Infections
Storey Publishing, LLC, 9781612121604, 424pp.
Publication Date: September 24, 2013
* Individual store prices may vary.
Description
Take control of your health with herbal antivirals. As traditional medications become less effective against today's potent and aggressive viruses, natural alternatives are proving capable of fighting off many common viral threats. Stephen Harrod Buhner offers in-depth instructions on how to prepare and use herbal formulations to prevent and treat infections such as SARS, influenza, and encephalitis. These natural remedies will fight off disease and strengthen your immune system, keeping your family healthy and happy. 
About the Author
Stephen Harrod Buhner is the author of Herbal Antivirals, Herbal Antibiotics (now in its second edition), and 17 other works including Herbs for Hepatitis C and the Liver, Sacred Plant Medicine, The Lost Language of Plants, The Secret Teachings of Plants, and Ensouling Language. He speaks internationally on herbal medicine, emerging diseases, complex interrelationships in ecosystems, Gaian dynamics, and musical/sound patterns in plant and ecosystem functioning. He is a tireless advocate for the citizen scientist, the amateur naturalist, and community herbalists everywhere. He lives in New Mexico.
Praise For Herbal Antivirals: Natural Remedies for Emerging & Resistant Viral Infections…
"Whether for everyday well-being or in dealing with dangerous diseases, plants offer natural options for improved health. … Herbal Antivirals help[s] put plant power in the reader's hands."