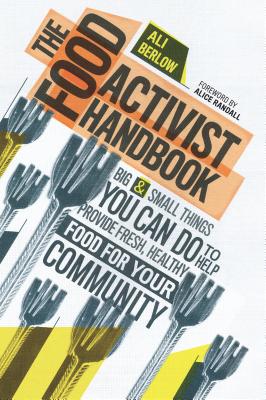 The Food Activist Handbook (Paperback)
Big & Small Things You Can Do to Help Provide Fresh, Healthy Food for Your Community
Storey Publishing, LLC, 9781612121802, 320pp.
Publication Date: May 5, 2015
* Individual store prices may vary.
Description
One person really can make a difference. From starting neighborhood kitchens to connecting food pantries with local family farms, Ali Berlow offers a variety of simple and practical strategies for improving your community's food quality and security. Learn how your actions can keep money in the local economy, reduce the carbon footprint associated with food transportation, and preserve local landscapes. The Food Activist Handbook gives you the know-how and inspiration to create a better world, one meal at a time.
About the Author
Ali Berlow is the author of The Food Activist Handbook and The Mobile Poultry Slaughterhouse, and the co-owner of Edible Vineyard magazine. Berlow founded and served as the first executive director of Island Grown Initiative, a grassrooots nonprofit that encourages and supports a resilient and accessible local food system on Martha's Vineyard. She is the co-host of "The Local Food Report," a public radio program out of WCAI in Woods Hole, Massachusetts. She lives in West Tisbury, Massachusetts, and in Putney, Vermont.
Praise For The Food Activist Handbook: Big & Small Things You Can Do to Help Provide Fresh, Healthy Food for Your Community…
20th Annual Books for a Better Life Award Finalist

"I have seen, with my own eyes, Ali transform the food eco-system in her community through direct action and activism. With her feet planted firmly on the ground, but her vision soaring far ahead, Ali lays out the road to change with boldness, courage, and passion. Bravo, my friend!"
— Walter Robb, co-CEO, Whole Foods Market

"Comprehensive and empowering."
— Bill McKibben, author of Deep Economy

"If Michael Pollan sounded the battle cry, Ali Berlow issues the marching orders. Think of this book as food activism for everyman. It's an elitist movement no more — everyone deserves clean food."
— Steven Raichlen, author of The Barbecue Bible cookbook series and host of Primal Grill on PBS

"It's been said that it takes a village to raise a child. And once the villagers are roused, Ali Berlow suggests, we can surely do something to eat better, more sustainably, and more humanely. This is a clarion call we would all do well to heed."
— Peter Kaminsky, author of Culinary Intelligence

"Ali Berlow has written an empowering guide to improving the food in our communities. In this wonderful, thought-provoking book, she lays out both big and small actions, inspiring us to get started — and, with this must-have tool in our hands, to achieve success."
— Corky Pollan, co-author of The Pollan Family Table

"It's not enough just to eat healthy ourselves. We must all become food activists if we are to have a sustainable future. Bravo to Ali for so beautifully showing us the path forward."
— Laurie David, producer of Fed Up and An Inconvenient Truth

"An excellent job of providing — in digestible chunks — dozens of steps anyone can take."
— The Boston Globe

"From mapping farmland to starting a school garden, Berlow gives readers actions they can take on an individual level in any community."
— Food Tank