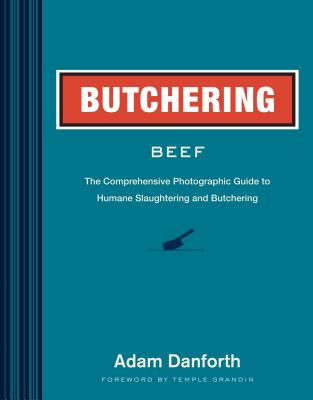 Butchering Beef (Hardcover)
The Comprehensive Photographic Guide to Humane Slaughtering and Butchering
Storey Publishing, LLC, 9781612121895, 352pp.
Publication Date: March 11, 2014
Other Editions of This Title:
Paperback (3/11/2014)
* Individual store prices may vary.
Description
Learn how to humanely slaughter cattle and butcher your own beef. In this straightforward guide, Adam Danforth provides clear instructions and step-by-step photography of the entire butchering process, from creating the right preslaughter conditions through killing, skinning, keeping cold, breaking the meat down, and perfecting expert cuts. With plenty of encouragement and expert advice on food safety, packaging, and necessary equipment, this comprehensive guide has all the information you need to start butchering your own beef. 
About the Author
Adam Danforth trained at the professional meat processing program at SUNY Cobleskill, one of the only such programs in the United States, before going to work at Marlow and Daughters in New York City. He's also worked as a butcher at Blue Hill and teaches home butchering workshops at the Stone Barns Center for Agriculture. Danforth also works with individual farmers who are slaughtering animals for themselves, and because of that, he has a keen awareness of the needs of farmers, especially those who may be killing an animal for the first time. He lives in Ashland, Oregon.
Temple Grandin is the author of the New York Times bestsellers Animals in Translation and Animals Make Us Human, as well as Thinking in Pictures, Humane Livestock Handling, Improving Animal Welfare, and The Autistic Brain. Dr. Grandin's humane livestock facility designs have been adopted all over the world, and she is a consultant on animal welfare to several segments of the fast food industry. Her work has been featured on NPR, 60 Minutes, and The Today Show and in the New York Times and Time and Discover magazines. The story of her life was made into an Emmy Award-winning HBO movie titled Temple Grandin. Dr. Grandin is a Professor of Animal Science at Colorado State University.
Praise For Butchering Beef: The Comprehensive Photographic Guide to Humane Slaughtering and Butchering…
"Adam Danforth's two new books about butchering feature tasteful photographs and a thorough explanation of each step of the process. … [They]make you feel like you can raise and process your own livestock, and do it thoughtfully and skillfully … [and] provide new insights for all of us about butchering and its impact on the quality of meat."
— Kitchen Arts & Letters
"These are not mere how-to guides: they are the equivalent of in-depth college courses. … What's more, this is not just academic data: there are practical applications, and not only for homestead butchers. Anyone who cooks or eats meat would benefit from much of this information. … On a scale of 1-10, these easily rank 12, minimum."
— HobbyFarms.com
"[A] breathtaking guide through the paradoxical process of killing animals with compassion. … For those who have embraced the farm to table movement and are ready to take matters into their own hands, this is required reading. For those whose consideration of meat and poultry begins and ends at the supermarket, it is a transformative wake-up call."
— The Shepherd
"There's an entire industry of professionals who humanely raise and slaughter animals for a living, in an intensely personal and responsible way that's to be admired. One of those professionals is Adam Danforth, the author of a new book series that sets out to educate those interested in humanely slaughtering their own food."
"If you're interested in self-sustainability and raising livestock for meat consumption, this book is the next step in your process. It's informative, it's comprehensive, and above all else, it's reverent and respectful of the animals giving their lives so we can live ours."
"These books were written by a man who loves livestock, and loves meat – with reverence."