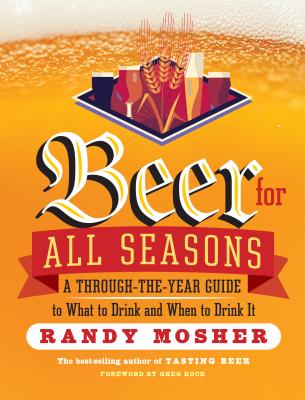 Beer for All Seasons (Paperback)
A Through-the-Year Guide to What to Drink and When to Drink It
Storey Publishing, LLC, 9781612123479, 200pp.
Publication Date: March 31, 2015
* Individual store prices may vary.
Description
For everything there is a season — and beer is no exception. Best-selling author Randy Mosher leads you on a delicious tour of beer-tasting opportunities throughout the year, guiding you through all the best seasonal beer releases and festivals. Discover which beers are best to drink on warm spring afternoons or icy winter nights, and learn to make the most out of Craft Beer Week and Oktoberfest. Fun, fresh, and full of insider information, Beer for All Seasons will have you enjoying the varied delights of your favorite beverage year-round.
About the Author
Randy Mosher is a writer, lecturer, and creative consultant on beer and brewing worldwide. He is the author of Tasting Beer, Beer For All Seasons, Radical Brewing, and Mastering Homebrew. He is active in the leadership of the Chicago Beer Society, the American Homebrewers Association, and the Brewers Association. He is also a partner in and the creative director for 5 Rabbit Cerveceria, a brewery in Bedford Park, Illinois. He lives in Chicago, Illinois.
Praise For Beer for All Seasons: A Through-the-Year Guide to What to Drink and When to Drink It…
"A triumph … If you're going to own just one beer book, this is it."
— All About Beer

"Contains an incredible volume of useful and engaging information and visuals."    
— Beer Connoisseur

"A cornucopia of beer imagery and information for today's beer drinker."
— Ray Daniels, Founder and Director, Cicerone Certification Program

"A new Randy Mosher book is a reason to celebrate. No other current writer is able to make the immensity of the beer world so easy to grasp."
— Jeff Alworth, author of The Beer Bible and The Beer Tasting Toolkit

"Mosher has mastered the art of beer storytelling. A great gift for the beer lover in your life, all year long."
— Charles Finkel, The Pike Brewing Company