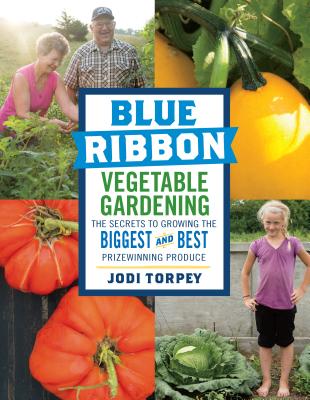 Blue Ribbon Vegetable Gardening (Paperback)
The Secrets to Growing the Biggest and Best Prizewinning Produce
Storey Publishing, LLC, 9781612123943, 224pp.
Publication Date: December 29, 2015
* Individual store prices may vary.
Description
Win the blue ribbon every time! Master Gardener Jodi Torpey offers all the information you need to grow champion vegetables — beans, beets, cabbages, cucumbers, eggplants, onions, peppers, pumpkins, squash, and tomatoes — covering everything from choosing the right varieties and scheduling planting dates to harvesting, preparing, and transporting your produce. She also walks you through every aspect of competitive showing, with useful tips for thinking like a judge. This book will delight you with lively photos of mammoth pumpkins, truly gigantic onions, perfectly pear-shaped eggplants, and the farmers and gardeners who grow them. Filled with the excitement of a county fair, it's a fun read as well as a solid guide to growing the biggest, tastiest, best-looking vegetables for miles around. 
About the Author
Jodi Torpey, author of Blue Ribbon Vegetable Gardening, is a garden writer, an award-winning gardener, a Craftsy online gardening instructor, and the founder and editor-in-chief of the website Western Gardeners. Torpey's writing appears in digital and print media, and she's a popular speaker at gardening conferences and events around the United States.
Praise For Blue Ribbon Vegetable Gardening: The Secrets to Growing the Biggest and Best Prizewinning Produce…
Want that coveted blue ribbon for your homegrown tomatoes or zucchini? The first step is Jodi Torpey's Blue Ribbon Vegetable Gardening. In this comprehensive guide, Torpey combines her impressive gardening skills with her ability to turn tomatoes and beets into prize-winning produce. She covers all aspects of growing the best vegetables and offers plenty of advice on navigating the world of horticultural competitions. Even if you don't plan on entering any competitions, you'll certainly benefit from Torpey's many tricks and tips for growing better vegetables.

—Niki Jabbour, author of Groundbreaking Food Gardens and The Year Round Vegetable Gardener


Blue Ribbon Vegetable Gardening is a winner: the most comprehensive reference on competitive vegetable growing that I've ever read. Torpey captures the joy of growing vegetables well for sport, fun, glory, or simply for the kitchen table. This book will inspire you to enter the fray.

—Amy Goldman Fowler, author of Heirloom Harvest and former grand champion in vegetables


When it comes to growing blue ribbon vegetables, a gardener's success is never an accident. There will be seasons of trial and error, but sticking to certain basics can eventually lead to that award-winning formula. In Jodi Torpey's latest book, she pulls back the curtain on what it takes to grow your way to ribbon-worthy edibles in your own home garden.

—Joe Lamp'l, creator and host of Growing a Greener World on national PBS