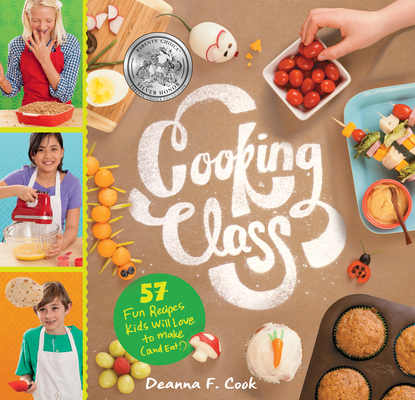 Cooking Class (Spiral bound)
57 Fun Recipes Kids Will Love to Make (and Eat!)
Storey Publishing, LLC, 9781612124001, 144pp.
Publication Date: March 10, 2015
* Individual store prices may vary.
Description
The kids are taking over the kitchen! Deanna F. Cook presents more than 50 recipes designed for the cooking abilities and tastes of children ages 6 to 12. Basic cooking techniques are explained in kid-friendly language, and recipes include favorites like applesauce, French toast, popcorn chicken, pizza, and more. Full of fresh, healthy ingredients and featuring imaginative presentations like egg mice, fruit flowers, and mashed potato clouds, Cooking Class brings inspiration and confidence to the chefs of the future. 
About the Author
Deanna F. Cook has written award-winning books for kids, including the best-selling Cooking Class and Baking Class, as well as Farmers Market Create-and-Play Activity Book. She has been the creative development director at FamilyFun and has worked as an editor at Scholastic, Disney, and Kidstir.com. She lives in western Massachusetts and can be found online at deannafcook.com.
 
Praise For Cooking Class: 57 Fun Recipes Kids Will Love to Make (and Eat!)…
IACP Award Finalist
2015 "National Parenting Publications Awards" (NAPPA) Gold award winner
2015 Parents' Choice Award Silver winner
2016 Mom's Choice Award Gold winner
2015 NPR Great Reads

"Of all the kids' cooking books that have crossed my threshold over the years, this is the one that seems to have struck gold. I usually hand kids' cookbooks to my daughter (she's 9 now) for a first opinion before looking at them myself; this one I never got back. Cooking Class, written by family-magazine editor and kids'-cooking specialist Deanna Cook, seems to know how to talk directly to kids (or at least bookish kids who are seriously motivated to feed themselves) with minimal interference from parents. Part of the appeal is that it's such an intensely visual book, full of colorful pages, punchy graphics and clear instructions. It's got peel-off labels for your homemade dressings (because even a kid independent enough to cook for herself is still a kid, and hence not immune to the charm of stickers). It's got pictures of other kids cooking by themselves. And now, our copy's got stains and sticky spots — sure signs of devotion no matter what the cook's age." — T. Susan Chang, NPR

"An appealing blend of fun techniques (flowers made of fruit, anyone?) and practical recipes (omelets, apple crisp) make former FamilyFun editor Deanna F. Cook's new book, Cooking Class, a must-have for any budding chef. The recipe variations and open-ended projects let kids take their culinary creativity to the next level." — FamilyFun
"There comes a time, kids, when you've got to expand your kitchen repertoire beyond mac 'n cheese, hot dogs, and PB&J. French Toast on a Stick, Quiche Cupcakes, Tiny Tomato Toast, and Lettuce Roll-Ups are so much more interesting and healthy, especially when you've made them all by yourself. No matter what you want to cook, this book has you covered, with helpful photos, easy-to-follow instructions, and quirky twists on recipes." — Foreword Reviews
"For any parent who is in full 'how do I start' shrug mode, wondering how to bring their kid into the kitchen — pick this up: a few recipes in, the goal will be accomplished." — Katie Workman, author of The Mom 100 Cookbook, Creator of themom100.com blog
"A creative, hands-on collection of fun, kid-friendly recipes, with easy step-by-step directions and inspiring photos." — Ann Hallock, Editor-in-Chief, FamilyFun magazine
"This book teaches kids that the art and pleasure of cooking isn't just about how to crack an egg or dice a tomato — it's about preparing and sharing tasty, healthful foods in creative ways." — Amanda Kingloff, author of Project Kid: 100 Ingenious Crafts for Family Fun