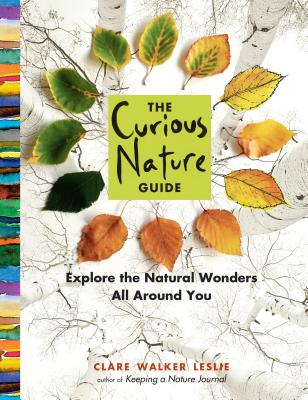 The Curious Nature Guide
Explore the Natural Wonders All Around You
Paperback

* Individual store prices may vary.
Description
With dozens of simple prompts and exercises, best-selling author, naturalist, and artist Clare Walker Leslie invites you to step outside for just a few minutes a day, reignite your sense of wonder about the natural world, and discover the peace and grounding that come from connecting with nature. Using stunning photography as well as the author's own original illustrations, The Curious Nature Guide will inspire you to use all of your senses to notice the colors, sounds, smells, and textures of the trees, plants, animals, birds, insects, clouds, and other features that can be seen right outside your home, no matter where you live. Sketch or write about one exceptional nature image each day; learn to identify cloud types and the weather they bring; or create a record of what you see each day as you walk your dog. Easy, enjoyable, and enlightening, these simple exercises will transform your view of the world and your place within it.
Praise For The Curious Nature Guide: Explore the Natural Wonders All Around You…
"Fascinating, inspirational, and beautifully illustrated, The Curious Nature Guide is an essential book for anyone looking to deepen their connection with the natural world."
—Richard Louv, author of Last Child in the Woods and The Nature Principle

 "The Curious Nature Guide is a gift to anyone who is trying to reinvigorate their relationship with the natural world — or who is just starting out on that path."—Chip Blake, editor-in-chief, Orion
Storey Publishing, LLC, 9781612125091, 144pp.
Publication Date: September 8, 2015
About the Author
Clare Walker Leslie is a nationally known wildlife artist, author, and educator. For more than 30 years, she has been connecting people of all ages to nature using drawing, writing, and observation of the outdoors. Her books include the bestsellers Keeping a Nature Journal and The Nature Connection, as well as The Curious Nature Guide, Nature Journal, and Drawn to Nature. She lives with her husband and family in Cambridge, Massachusetts, and Granville, Vermont.