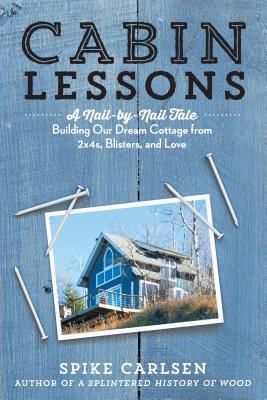 Cabin Lessons (Paperback)
A Nail-by-Nail Tale: Building Our Dream Cottage from 2x4s, Blisters, and Love
Storey Publishing, LLC, 9781612125671, 224pp.
Publication Date: April 21, 2015
* Individual store prices may vary.
Description
When carpenter Spike Carlsen and his wife set out with their recently blended family of five kids to build a cabin on the north shore of Lake Superior, they quickly realized that painting, parenting, and putting up drywall all come with both frustrations and unexpected rewards. Part building guide and part memoir, Cabin Lessons tells the wryly funny, heartwarming story of their eventful journey — from buying an unforgiving plot of land on an eroding cliff to (finally) enjoying the lakeside hideaway of their dreams.
About the Author
Spike Carlsen built a tree house at the age of 8 and has been swinging a hammer ever since. He worked as a carpenter and contractor for 15 years, then as an editor with The Family Handyman — the world's leading DIY magazine — for another 15. He's the author of the award-winning A Splintered History of Wood, Woodworking FAQ, and The Backyard Homestead of Building Projects. He's written for Men's Health, the Minneapolis Star Tribune, American Woodworker, and other publications and has appeared on HGTV, Modern Marvels, and CBS's The Early Show. He and his wife, Kat, divide their time between their home in Stillwater, Minnesota, and their cabin on Lake Superior.
Praise For Cabin Lessons: A Nail-by-Nail Tale: Building Our Dream Cottage from 2x4s, Blisters, and Love…
"An uplifting tale of hoisting studs, [this] two-year odyssey of cabin construction weaves carpentry skills, parenting, and love through a weft of humor."
— Dale Mulfinger, author and Cabinologist

"Carlsen chronicles the realities and and pitfalls as well as the joys and satisfactions of creating a human-scaled getaway. Complete with ample practical advice, Cabin Lessons is a must-read for anyone "knotty pining" for a place of their own."
— Sarah Stonich, author of Shelter and Vacationland

"The story is the perfect blend of inspiration and information. It also offers ... the biggest home-building lesson of all: sometimes it's not the end result, but the journey that brings a family closer together."
— Timber Home Living

"Cabin Lessons ... is part how-to, part memoir and part love story—love of Kat, love of Lake Superior, love of building."
—The Minneapolis Star Tribune

"If you've ever dreamed of building your own cabin, you should read this book. Cabin Lessons recounts [Spike and Kat's] entertaining and instructive story of building together with plenty of lessons for a would-be cabin or house builder. It's also a meditation by a kind, modest and genuinely funny guy on building a marriage, a blended family and a life. You'll be grinning. Guaranteed"
—The Family Handyman

"Spike Carlsen's book ... chronicles the family's route from a scenic dream (with a modest budget) to designing and building, to filling the space with family, to a (rejected) blank-check purchase offer from a slickster driving an Italian-made car. And it's all told in the voice of someone you want to see sitting on the other side of the campfire, sharing a blanket with his wife, dispensing charming tales and life lessons in calm, even rolls."
—The Duluth News Tribune

"This memoir shines because Spike is a likeable storyteller. He travels from the  purchase of an it-seemed-like-a-good-idea-at-the-time impossible building site through the construction and occupation of a marvelous modest cabin. He weaves in bits of shore history, philosophical musing and warm family moments that make this a true keeper."
—Lake Superior Magazine

"Carlsen's life history makes him qualified to build a cabin and write a book about the painstaking yet joyful experience. As a carpenter and accomplished woodworker, he ran his own construction and remodeling company. As a magazine editor and author, he has written about home remodeling and has four books about wood and woodworking, including the award-winning A Splintered History of Wood: Belt Sander Races, Blind Woodworkers and Baseball Bats."
—Tori McCormick, Outdoor Editor, Minneapolis Star Tribune