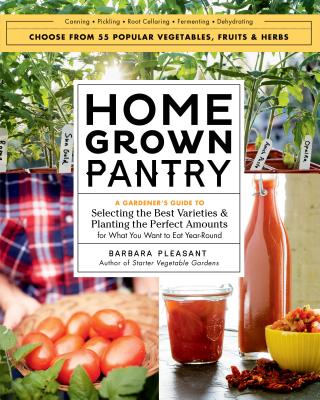 Homegrown Pantry
A Gardener's Guide to Selecting the Best Varieties & Planting the Perfect Amounts for What You Want to Eat Year-Round
Paperback

* Individual store prices may vary.
Description
Now that you've mastered gardening basics, you want to enjoy your bounty year-round, right? Homegrown Pantry picks up where beginning gardening books leave off, with in-depth profiles of the 55 most popular crops — including beans, beets, squash, tomatoes, and much more — to keep your pantry stocked throughout the year. Each vegetable profile highlights how many plants to grow for a year's worth of eating, and which storage methods work best for specific varieties. Author Barbara Pleasant culls tips from decades of her own gardening experience and from growers across North America to offer planting, care, and harvesting refreshers for every region and each vegetable. 

Foreword INDIES Silver Award Winner
GWA Media Awards Silver Award Winner
Praise For Homegrown Pantry: A Gardener's Guide to Selecting the Best Varieties & Planting the Perfect Amounts for What You Want to Eat Year-Round…
"Barbara Pleasant's most comprehensive and passion-driven work to date helps beginning and experienced gardeners plan a garden that will feed them through the year and find great fulfillment while doing so." — Hank Will, editor-in-chief of Mother Earth News 

"If you're looking for a single book that can take you from planning and planting a food garden through harvesting, preserving, and cooking your produce, Homegrown Pantry is it. Barbara Pleasant offers savvy advice on what vegetables to plant and how much to grow, plus dozens of time- and flavor-saving tips." — David J. Ellis, editor of The American Gardener magazine

"A treasure! Charts will help both new and experienced gardeners calculate the timing of second plantings, the ideal temperature to store individual edibles, and how many row-feet to plant for the family." — Rosalind Creasy, award-winning author and edible landscaping pioneer

"Normally you'd have to consult at least four books — on gardening, preservation, seasonal recipes, and food storage — to find the information beautifully organized here. Incredibly practical, with down-to-earth tips, calendars, and plans to guide you through your gardening, preservation, and food storage tasks throughout the year." — Shelley Stonebrook, writer and organic farmer
Storey Publishing, LLC, 9781612125787, 328pp.
Publication Date: May 2, 2017
About the Author
Barbara Pleasant has written about organic gardening and self-sufficient living for more than 30 years. Her books include Starter Vegetable Gardens, The Complete Compost Gardening Guide, The Complete Houseplant Survival Manual, The Gardener's Bug Book, The Gardener's Weed Book, and The Gardener's Guide to Plant Diseases.